Can you really earn $200 for each book you read on wordsrated.com? Is the offer real or fake? Read this review to find out everything you need to know about this remote read to earn website.
Wordsrated.com: What Is It?
 It is a non-commercial research organization that takes a data-based look at books, literature, and the publishing industry. It works this way – the researchers conduct studies that analyze content from hundreds of books. The aim being to make the website a number one data source on all things reading and books.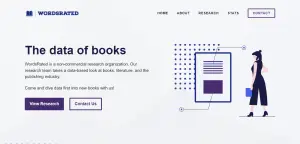 Currently, they are hiring researchers. You will earn $200 for each book you read and analyze. One of the perks of it all is that there's no limit on how many books you can read. You can either read one book per month or one book every day, it all depends on you.
Who Owns It?
The CEO of Wordsrated is Jens Jakob Andersen. He launched the company on September 2021. Meanwhile, he already has a successful research company at RunRepeat and is looking to perform similar studies and research with his second love – books.
His mandate for Wordsrated is simply "to provide meaningful information on books that can provide reliable, useful, informative, and entertaining data". He further reinstates that readers will not be given a strict time limit. Projects often take a few weeks to months to complete, so there is usually no great rush.
However, the time frame to complete a book is within two weeks to a month.
Things You Should Consider When Joining Wordsrated.com
The following tips are things to consider when joining wordsrated.com in order to excel. Firstly, you should pay rapt attention to details so you would be able to perform tasks. Meanwhile, the following details are what you should have at the back of your mind when reading books for Wordsrated –
Number of characters by gender
Number of sentences given to male vs. female characters
Locations where the story takes place
Which books are characters reading or being referenced
Number of certain words or phrases
How many questions were asked in the book
What animals appear in the book
How to Apply to Wordsrated
You don't need a college degree to apply to Wordsrated. You just need to love reading, have high proficiency in English and have a stable internet connection. Meanwhile the job is 100% remote. You can work how much you want, whenever you want, and from wherever you want.
Want to apply to wordsrated.com? fill the application form here
Conclusion
Wordsrated.com is an authentic platform were people can earn up to $200 from reading a single book. You only need to have a native proficiency in English, have a stable internet connection, and be above 18 years old.
 Meanwhile, you can report scams, untrustworthy websites and tell us why you consider the websites fraudulent. See some phishing scam; Wal Tracking Scam, Delware BPO Scam, Publix 90TH Anniversary, etc.