In case you're thinking of ordering the Ultra Heater 3 this 2022, we advise you not to do so yet. A lot of things don't add up about the product, the company, and the reviews online.
Read this genuine review to find out why the Ultra Heater 3 portable space heater is not worth your money.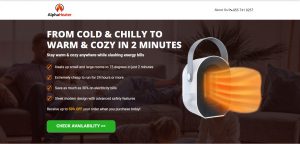 Heater – Is It Worth It?
One of the reasons why this space heater is the rave of the internet is because it is been sold for 50% discount. But when you dig beneath all the so called positive reviews online, you'd see that there are no genuine customer reviews.
The reviews online are sponsored reviews paid for by the company behind this product. The reviews are not telling you the exact truth about the product. Below are reasons why you shouldn't think of buying Ultra Heater 3–
Doesn't Heat up Rooms efficiently
Though the reviews online and Ads claim the product warms 500sq ft room, that isn't the case. When we put the product to test we discovered it can only warm maybe 5sq ft. The claim that Ultra Heater 3 heats up small and large rooms to 75 degrees in just 2 minutes is entirely false.
We have reviewed similar product before, Orbis Heater, Top Heat, AmperHeat, Artic Chill, etc. Either called portable heater or personal heater, they all work the same way. And from these reviews, you'd see that the product was far from satisfactory. It didn't meet the expectations of customers.
Unauthorized Orders
Payment discrepancies is one of the issues most customers have faced when ordering Ultra Heater. Instead of just one, the company tried to sell them four. If you're not observant you'd be made to pay for four instead of just one.
Overpriced
It is been sold for extremely high prices. It is sold for almost $60 whereas this exact space heater can be gotten for far cheaper prices online.
On Amazon you can get similar 'portable heater' for 20$-50$ and save yourself more money and time.
Fake Ultra Heater 3 Reviews
During our investigation, we realized the positive reviews on the official websites are all fake. The profiles are not real, and the images have been used by similar Heater stores. Meanwhile, all the reviews online by popular websites are sponsored posts. They don't say the truth about the product.
Complaints
People who've bought and used this product have left reviews online stating that the product received is a piece of junk. The heater only goes up to 32 , and the lowest setting is 15. Also, it doesn't stay running longer than maybe 3 minutes tops , before it shuts off. It doesn't heat up 500sq ft., maybe 5sq ft.
Conclusion:
We are skeptical about Ultra Heater 3 as there are a lot of red flags that shouldn't be ignored. Have you bought Ultra Heater 3? What were your experiences? Please drop a comment!