AmperHeat Heater advertisement on YouTube and Facebook is misleading. In case you're thinking of ordering the Amper heater, don't do so yet. A lot of things don't add up about the product, the company, and the reviews online.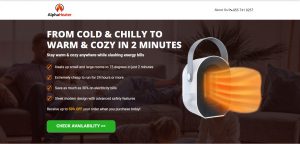 Amperheat Space Heater- Is It Worth It?
One of the reasons why this space heater is the rave of the internet is because it is been sold for 50% discount. However $79.99 is not a great buy for a heater that turned out to be junk.
Below are our observations when using the glorified heater –
Doesn't Heat up Rooms efficiently
Though the reviews online and Ads claim the product warms 500sq ft room, that isn't the case. When we put the product to test we discovered it can only warm maybe 5sq ft. The claim that Amperheater heats up small and large rooms to 75 degrees in just 2 minutes is entirely false.
Unauthorized Orders
Payment discrepancies is one of the issues most customers have faced when ordering AmperHeat. Instead of just one, the company tried to sell them four. If you're not observant you'd be made to pay for four instead of just one.
Overpriced
It is been sold for extremely high prices. It is sold for almost $60 whereas this exact space heater can be gotten for far cheaper prices online.
On Amazon you can get similar 'portable heater' for 20$-50$ and save yourself more money and time.
False Money Back Guarantee
The 30 days money back guarantee on getamperheat.com is a sham. Customers who were unsatisfied with the heater were unable to get their money back. Rather they were given 75% of their money and told to keep the junk.
Suspicious Nature
On the Contact Us page, the given address is 2345 Vauxhall Road,
Union, NJ 07083 which is that of American Cargo Express. Meanwhile when the space heater comes with the name 'Camry' written on it. Which goes to show that it is not a unique product.
What this company does is buy space heaters for cheaper rates in Alibaba, then invest in social media advertising, to make the products look spectacular to buyers. In fact, AmperHeat is just like the other junk space heaters we've reviews – Orbis Heater, Alpha Heater, HeatCore Heater, Ultra Heater.
Amperheat Complaints
People who've bought and used this product have left reviews online stating that the product received is a piece of junk. The heater only goes up to 32 , and the lowest setting is 15. Also, it doesn't stay running longer than maybe 3 minutes tops , before it shuts off. It doesn't heat up 500sq ft., maybe 5sq ft.
Amper Heat Space Heater Reviews: Is It Legit?
We are skeptical about Amperheat personal space heater as there are a lot of red flags that shouldn't be ignored. Have you bought Amperheat? What were your experiences? Please drop a comment!