Rick calls it a useless ripoff as it doesn't cool a fly. According to this customer, the reviews and Ads online are misleading. The Arctic Air Pure Chill personal air cooler does not cool the air surrounding you, although it ironically serves as a de facto heater after just 20 minutes of use.
But why are there glowing reviews online from supposed trusted website?
Why are the customer reviews on AsSeenOnTV website all one star with accompanying negative reviews?
This review answers all your questions.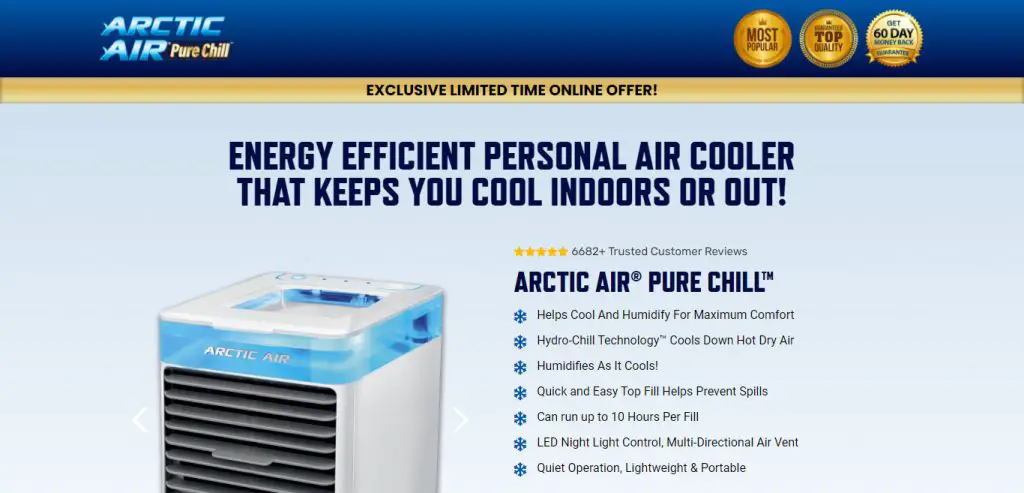 First of all, Arctic Air Pure Chill is not an Air conditioner as you were made to believe. It does not even come close to being an 'Air Cooler'. The advertising and branding of this product is deceptive.
It cannot be an A/C unit if it is self-contained. A/C units are heat pumps — they remove heat from the air and transport the heat to another location, i.e. usually out of the space that you want to cool (think of a refrigerator moving heat from inside the closed space to the outside of it).
Arctic Air Pure Chill is not an AC but a swamp cooler. It only humidify the air surrounding your feet, and can not work as an air cooler or regular fan.
Unboxing and Testing of Arctic Air Pure Chill AC
While unboxing the product I noticed the fan is extremely small. How would it work efficiently more than an AC as claimed by the Ads?
So the Arctic Air Pure Chill Air conditioner works with an ice tray or filter which you have to fill with water, place in a refrigerator, before putting it inside the 'Artic Air' When I did all these, I observed the following –
When switched on, it is pretty loud not whisper quiet.
It blew cold air until the ice melt which was within 30 minutes. After that, it blows lukewarm air.
After a while the plug becomes too hot to touch.
When I left the unit overnight on a wooden table, the unit leaked water, damaging the table.
This doesn't look good. I was looking forward to having a small and effective device for the smallest room in the house.
Is This Product Worth Your Money?
Apart from the fact that it is wrongly called an Air Conditioner, below are other reasons why can't recommend this product.
Overpriced
It is been sold for extremely high prices. purechillshop.com is offering this 'portable Air cooler unit' for almost $90 whereas this exact compact swamp cooler can be gotten for far cheaper prices online.
On Amazon you can get similar 'portable ac' for 20$-50$ and save yourself more money and time. But then like I mentioned earlier, it doesn't do much. It's a humidifier at best.
False Money Back Guarantee
Unlike you were made to believe, you can't return your Arctic Air Pure Chill in 60 days time, especially if you opened the box already. The 60 days money back guarantee is just a sham used to buy your trust. So, you're stuck with your dear portable AC for life (Laughs)
Negative History
The Arctic Air Pure Chill Mini AC is marketed by Ontel Products, 21 Law Drive, Fairfield, NJ 07004 . A google search showed that the company has some bad reviews online already, dating as far back as 2020.
Why this does not make them totally bad, it still doesn't paint this company in a good light.
What this company does is buy products for cheaper rates in China, then invest in social media advertising, SE0 advertising, copy writing and all the likes, to make the products look real or legit to buyers. This is why when you search for Artic Air Pure Chill AC reviews or as seen on tv artic air pure chill ac reviews you'd see tons of reviews from blogs endorsing the product.
But one thing stands out…..the contents are all similar. All hog-wash, make believe reviews. Unfortunately, you would get tempted to buy this product. Don't beat yourself! Who wouldn't? The reviews look real, moreover they're from popular websites. What a shame! Sponsored reviews do the most these days.
Classified Junk
We have reviewed similar product before, Blaux Portable AC, Polaire, Williston Force, InstaFrost. Either called air conditioner or air cooler or portable AC, they all work the same way. And from these reviews, you'd see that the product was far from satisfactory. It didn't meet the expectations of customers.
Fake Reviews
During our investigation, we realized the positive reviews online, both that of YouTube and Blogs, are all fake. This is they're all similar. We realized these reviewers are just affiliate marketers who get paid commission for any sale they make. So they are reviewing the product without even using it for starters.
Also, the reviews on purechillshop.com are unverifiable. They shouldn't prompt you to make an order.
Arctic Air Pure Chill Customer Complaints
People who've bought and used this product have left reviews online stating that the Arctic Air Pure Chill portable Air cooler does not really work as advertised. Majority of users alleged that the product is of cheap quality, doesn't cool the air more than 30 minutes, and leaks water when used for a long time.
Purechillshop.com Review: Is It Legit?
We are skeptical about Arctic Air Pure Chill AC as there are a lot of red flags that shouldn't be ignored. Have you shopped from purechillshop.com? What were your experiences? Please drop a comment!