The Arctic Air Freedom Personal Air cooler seems to be the magic product we've all been wishing for!
Cool, chic, and also WEARABLE! saving us the inconvenience we might cause other people in the room.
But is this neck fan worth our $30? or is it a rip off?
Let's find out!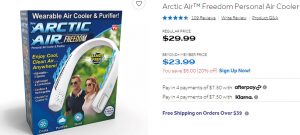 First of all, the Arctic Air Freedom Personal Air Cooler has been specifically made to be worn around the neck. The product allegedly has the following features –
Adjustable
Lightweight & Comfortable
Cordless & Rechargeable
Flexible for Custom Fit
Well, we're going to find out how true this is for ourselves. Get on the boat!
Unboxing and Testing of Arctic Air Freedom Personal Air Cooler
While unboxing the product I noticed it is quite adjustable, I don't think there'd be any case of it not fitting someone's neck.
So the Arctic Air Freedom works with a USB, you need to charge it for 3 hours before using. When I was done charging, this is what I noticed following –
It has 3 speeds low ,medium and high. Starts off on high. It claims to be quiet but to me it only is quiet on low speed. it emits a buzzing sound like a vibrator. I was thinking it would be noiseless. Wasn't it what the Ads said?
Though it is lightweight and comfortable, if you're exercising or running its gonna be bouncing and become uncomfortable.
This was looking good at this point, I was hoping it'd get better. But………..
It doesn't turn hot air into cold air. This is quite bad, especially as it was given the name 'Air Cooler'. At best, it is just a neck fan.
This product doesn't lower temperatures at all. I used it outside and also in my car but I didn't cool down. I was taking the temperature of the ambient air and then the air that was leaving the device and the temperatures were the same. Hold up!
While the fans do blow well (on high), one full charge only lasts about 2hrs when left on medium. But hey, we were told it works for six hours!
This doesn't look too good especially as it is just a glorified fan. Still, it isn't bad.
Is This Product Worth Your Money?
Apart from the fact that it is wrongly called an Air Cooler instead of a neck fan, I honestly don't think it is a bad product or a scam in the general sense. My only problem with this product is that the Ad says it is for indoor and outdoor use, but when you buy it, it says it is strictly for Indoor use.
This is because the manufacturers know it wouldn't do much outdoor. So, if you need an air cooler for outdoor use this is not an ideal product for you.
Apart from that, it is really useful for –
During Makeup. If like me you sweat when applying makeup, the Arctic neck fan can help you solve that problem.
Ideal for hot flashes or heat waves.
Does The Arctic Air Freedom Personal Air Cooler Really Work?
It only works as a neck fan. Yes, this is just a fan. There's nothing in the construction of this product that would cause it to turn hot air into cold air. There's no coils inside with refrigerant running through so the hot air becomes cool air.
If you need a neck fan for your hot flashes, make up, or heat wave, the Arctic Air Freedom is a good choice. However, the company should look into the battery power.
Have you used Arctic Freedom Personal Air Cooler? Were you satisfied with it? Please share your experiences below!