Do you want to buy Heat Boss space heater from buyheatboss.com or Amazon? Don't do so yet! Read this review to find out everything you need to know about Heat Boss Ceramic Space Heater.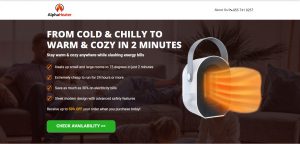 What is Heat Boss?
Heat Boss is a portable cost effective room heater that allegedly offers 1200 watts of power, comes with three built-in heat settings that you'll be able to cycle through, and has eight color settings for its built-in LED night light.
One of the perks of buying this heater is that it doesn't consume much electricity. So if you're trying to reduce your electricity bill, it's an ideal solution. Still, can it really heat rooms or other small areas up to 250 square feet in size? see what users have to say.
Efficiency
Heat Boss doesn't heat up rooms efficiently. Though the product description claims it warms 250 square feet room, that isn't the case. When the product was put to test we discovered it can only warm maybe 5sq ft. Anyways, for a heater of it size you shouldn't expect it to work wonders.
Complaints
The Heat Boss ceramic space heater isn't built to last long. 10% of users have left reviews on Amazon stating that the heater shut down and stopped working after two -three weeks. Meanwhile,  foul noxious fumes and odor spewed out before the heater broke down.
Pros
Does not consume much electricity
Great for small spaces like little shed
LEDs are cool –  has different colored lights on top
Cons
Not energy efficient. The output and voltage is very expensive for such a compact product.
The highest setting is too loud, and the lowest setting doesn't really do anything
Suspicious Nature
Heat Boss is marketed by Ontel Products on Amazon . A google search showed that the company has some bad reviews online already, dating as far back as 2020. What this company does is buy products for cheaper rates in China, then invest in social media advertising, SE0 advertising, copy writing and all the likes, to make the products look real or legit to buyers. 
Why this does not make them totally bad, it still doesn't paint this company in a good light.
Conclusion
We are skeptical about Heat Boss as there are a lot of red flags that shouldn't be ignored. Have you bought this portable space heater? What were your experiences? Please drop a comment!
Meanwhile, we have reviewed similar product before, Orbis Heater, Top Heat, AmperHeat, Artic Chill, etc. Either called portable heater or personal heater, they all work the same way. And from these reviews, you'd see that the product was far from satisfactory. It didn't meet the expectations of customers.