Are you thinking of buying Nuzzle Pillow from mynuzzle.com this 2022? Could this be the ideal pillow for head and neck support, or it a hoax? See this true review of Nuzzle pillow.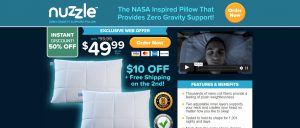 About Nuzzle Pillow from mynuzzle.com
It's a kind of pillow that was launched in 2020 after appearing in Kickstarter . According to mynuzzle.com, Nuzzle pillow is the only pillow with two inner adjustable layers, these layers adapt to your sleeping position, providing you with customized support. It is a NASA inspired pillow that claims to provide ZERO-Gravity Support. It also feature thousands of Nano-Coil fibers.
If you're one of those people who battle with neck pain, Nuzzle pillow is the option for you. It's ideal for –
 Stomach Sleepers 
 Back sleepers 
Side Sleepers
Meanwhile, it's been sold for 50% discount price at mynuzzle.com, PLUS free shipping!
Looks like an awesome product right? Don't be in a haste to buy! Continue Reading…..
Nuzzle Pillow Complaints
We got a complaint from one of our readers. According to this person, it's almost a year and half since he backed the product on Kickstarter but he's yet to receive his order. When we reached out to the project page on Kickstarter.com, we realized lots of people have the same complaint.
See the screenshot below –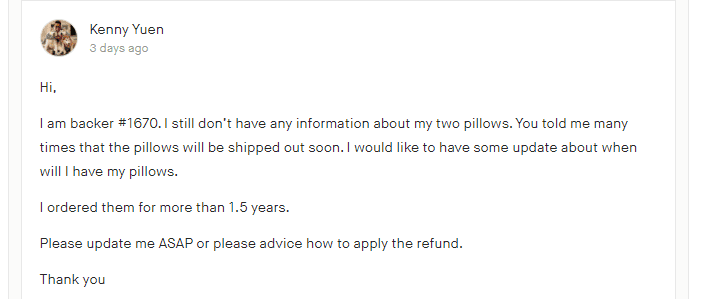 Delayed Shipping and Delivery
Customers have left reviews online stating that their months to arrive. This was not what they were made to believe when they made the order. See what a customer has to say –
8 weeks for them to fulfill an order. How hard can it be. And their customer service is useless.

David
Terrible Customer Support
Another issue customers have had with mynuzzle.com is the customer support, which is nothing to write home about. Replies are often automatic.
Does Nuzzle Pillow Really Work?
There are divided reviews online about Nuzzle pillow efficiency. Some users believe it's worth the price, others are disappointed. See reviews below –
So after waiting as long as I did, I was disappointed with the pillow. I purchased it because I have severe neck and back issues and have been searching for a pillow that can help me, for years. I commend this company for creating a product and following through on it, but the reason I committed to them was based on their video of the product. In no way was this pillow the pillow I saw in their video. It was not as thick as the video would have us believe.

Mark Banow
A few years ago, I bought a mattress and I feel like I'm floating except for my head. I wished someone would make a pillow that would do for my arthritic neck what the new mattress did for my body. They have. MyNuzzle.com has done it. There is far less muscle pain. I feel stronger too. It's a new company. It's not surprising that they take a while to fulfill an order.
Got the pillow, but very disappointed. I really want to here others feeling about their pillows. It seems very comfortable when you just stand with it in your hands. Very soft and nice. But when you put your head on it, it becomes hard as a brick after a few seconds. Its a mystery to me on whats going on from being soft to the opposite in seconds.

Matin
Conclusion
From all indications, Nuzzle pillow is an ideal pillow for people suffering back and neck pain. However, it has a couple of drawbacks. Aside from delayed delivery and poor customer support, 60% of users say the pillow is not as soft as they hoped it'd be.
Have you bought or used Nuzzle Pillow? Did it work for you? Please share your reviews in the comment section!
See other related reviews here.