Have you received a text message or email offering PCR testing kit? Beware! Coronavirus scam texts have been on the rise lately, and lots of fraudsters are cashing out. Did you or your friends receive any? are you wondering if it is real or a scam? Read this detailed review.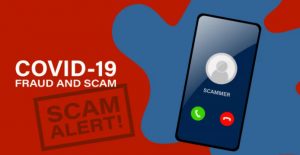 PCR Test Scam
Just like Newyorktimes reported, scammers have taken advantage of the United States' strained testing infrastructure and have left Americans with invalid test results, wrongful medical bills and overpriced at-home tests.
A lot of phony websites and pop-up testing sites have been on the rise. What these sites do is collect people's personal information, charge their credit cards, swab them for a test and then never provide results. On the other hand, some of these dubious websites provide negative results without actually testing people.
How does the PCR Test Text Scam Work?
The scammers use text messages, telemarketing calls, social media and door-to-door visits. They might convince you that the PCR test kit is free and you only need to pay for delivery. However, when you supply your personal and financial details for delivery, you'd receive multiple debit charges on your credit card for unrelated items.
You should be wary of text messages, emails or notifications offering PCR test kit, whether free or not. You should also know that while the NHS does contact people via text in some cases, it would only ask you to order a test via the official Government site like this (https://www.gov.uk/get-coronavirus-test)
So far we've reported two fake PCR testing websites; check-pcr-test.com and mypcr-test.com. Luckily, we've been able to lodge a complaint and bring down the dubious sites.
Meanwhile, the fake PCR message often goes like this-
NHS: You have been in contact with someone who has the Omicron Variant. You must order a free PCR testing kit here: hxxps://mypcr-test.com
This looks so convincing, and might make you panic. Hey! no need to be frightened or even visit the link.
How to tell If a PCR Test Text is Real
You can tell if it's genuine if it includes a unique ID number. This ID number should allow you to log into the official Test and Trace website.
Check whether the text came from the only number dedicated to the NHS tracing service, which is 0300 013 5000
Check whether the link is from a known government health website, like Gov.uk
Meanwhile, If you think you may have given sensitive information to fraudsters, let your bank know what's happened immediately. T
What Should You Do If You Receive Emails or Message Like This
No matter how convincing it make sound, we advise you not to click the link attached to the message. Also, do not attempt to send money or personal information to any stranger without first going online to search for reviews.
You can send us a mail if you're in doubt of similar mails in the future!
Phishing scams are on the increase daily, and we've been able to fish similar phishing scams like – EireVerify, Svieducation scam, Vince Camuto email scam, NYSDOL scam, USPS scam, to mention but few.
ALWAYS REMEMBER TO SEND US A MAIL VIA OUR CONTACT US PAGE IF YOU'RE IN DOUBT OF TEXT MESSAGES, MAILS, OR ONLINE STORES!