Have you been suffering high electrical bills and looking for a way to reduce the cost of electricity? Did you stumble on an Ad for Voltax on YouTube or Facebook? Are you thinking of ordering Voltax from ecovoltax.com? Read this honest Voltax review written by a professional electrician.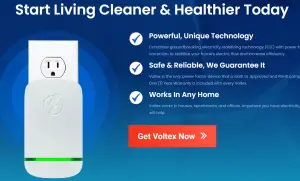 What is Voltax?
Many words have been used to describe this product. Some of the words include; ' Energy Saver', 'Power Saver' etc. This is because it allegedly provides smooth, and stable electrical current. This in turn, leads to reduction in dirty electricity.
But the main question is; does it really reduce electricity bill?
During our investigations, we discovered some inconsistencies about this product. Below are reasons why you shouldn't think of buying this power saving device-
Bogus Claim
Ecovoltax.com claims there's some kind of science behind the product.  However, not only is the 'science' complete hogwash, but even the photo of the 'company founders at an expo in Berlin" is just a generic commercial pic you can download from Shutterstock, istockphoto, et al.
Meanwhile, we have seen this kind of device many times. They go by different names; Voltex, Voltbox, Watt Rescue, Ecowatt, Miracle Watt, etc. and of a truth they are all the same. They don't work. A lot of users complained that these devices don't save any energy or reduce electricity bill.
Not Equipped To Save any Energy
When you unbox the device, you would see it is a capacitor placed across the power line. This actually might do a little bit of power factor correction, but you are not billed for reactive power at home. So it saves you nothing in money.
It probably has *just enough* effect that the statements in the ads are not complete lies, but the device is still completely useless in general.
Danger of Electrocution
Just like similar 'power saving devices' the capacitor inside the Voltax is not rated for connection across the AC line. It is a fire hazard if there is a lightning strike nearby. Capacitors connected directly to the AC line are supposed to have an "X" rating for safety.
Negative Reviews
There are a lot of reviews online that are false and don't give concrete info about this product. Real Voltax Customer reviews can be seen on TrustPilot here, and also in our first Voltax review here. These reviews indicate that Voltax energy saver does not reduce electricity bills.
Is Voltax a Scam?
Yes, it is. BBC has addressed the power saving device scam here
Energy saving devices like Voltax and the likes  are unsafe and could cause a fire or electrocution.
So what are the better ways to save energy and reduce electricity bills? Get solar power system. They can actually provide big savings on mains electricity bills.