In case you're thinking of ordering the t10 Air Cooler, do not do so yet. A lot of things don't add up about the product and the reviews online.
Read this genuine review to find out why T10 portable AC is not worth your money.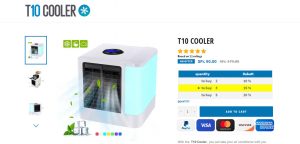 First of all, T10 Cooler is not an Air conditioner as you were made to believe. It does not even come close to being an 'Air Cooler'. The advertising and branding of this product is deceptive.
It cannot be an A/C unit if it is self-contained. A/C units are heat pumps — they remove heat from the air and transport the heat to another location, i.e. usually out of the space that you want to cool (think of a refrigerator moving heat from inside the closed space to the outside of it).
t10 Cooler is not an AC but a swamp cooler. It only humidify the air surrounding your feet, and can not work as an air cooler or regular fan.
It's an evaporative cooler. It works with an ice tray which you have to fill with water, place in a refrigerator, before putting it inside the 'T10 Air Cooler' This is what it uses to blow cool air. Unfortunately, this is not mentioned in the Ads online.
Is This Product Worth Your Money?
Apart from the fact that T10 Portable Cooler is wrongly called an Air Conditioner, below are other reasons why we can't recommend this product.
Overpriced
It is been sold for extremely high prices. Ubertech.shop is offering this 'portable Air cooler unit' for almost $90 whereas this exact compact swamp cooler can be gotten for far cheaper prices online.
On Amazon you can get similar 'portable ac' for 20$-50$ and save yourself more money and time.
Suspicious Nature
The online store selling this product has provided its company name and address as ENSO ECOMMERCE, Avenida Manuel Hermoso Rojas, 4, Planta 1, Of 12 (Torre 1) – 38003, Santa Cruz de Tenerife (España). However, there is no business with the name UberTech or ENSO ECOMMERCE, SL that has been mentioned on or around this address on Google Maps.
Instead, there is another business mentioned there named Adoclic Advertising which is an advertising agency. I honestly can't say if the advertising agency has anything to do with ubertech.shop.
Negative History
I have reviewed similar product before, Blaux Portable AC, Polaire, Williston Force. Either called air conditioner or air cooler or portable AC, they all work the same way. And from these reviews, you'd see that the product was far from satisfactory. It didn't meet the expectations of customers.
Fake Customer Reviews
During my investigation, I realized the positive reviews online, both that of Youtube and Blogs, are all fake. This is because when you order for the product, the wait time is 30 days. How come the reviewers have gotten theirs when this Ac is not yet up to 30 days online? We realized these reviewers are just affiliate marketers who get paid commission for any sale they make. So they are reviewing the product without even seeing it for starters.
Also, the reviews on ubertech.shop are unverifiable. They shouldn't prompt you to make an order.
Instafrost Customer Complaints
As of the time this review was written there are no genuine customer reviews online. This is because majority of those who ordered the T10 Air Cooler have not received theirs yet. The product delivery time is between two to four weeks.
T10 Air Cooler from Ubertech.shop Review: Is It Legit?
We are skeptical about T10 Portable AC as there are a lot of red flags that shouldn't be ignored. Have you shopped from ubertech.shop? What were your experiences? Please drop a comment!