The GroupMe Support message that claims you've won an iPad Pro or iPhone 11 is a scam. GroupMe is not currently giving out any freebies. Don't follow the instruction in the text message!
This review expose everything you need to know about this Groupme iPad Pro Winner text, and why it is fraudulent.
How Does The Fake GroupMe iPad Pro Giveaway Work?
The giveaway message is created by fraudsters who want to steal your personal and financial information. How does this work? It makes people provide their credit card info before they can claim their prize.
If you do so, these scammers will remove every dollar in your bank account. This is because they're not the legit GroupMe company, and they don't have any iPhone or iPad for you.
The Group Me iPad Giveaway Scam
The scam message goes like this –
GroupMe Support

Hello! We sent you a FREE iPhone 11 Pro

Congratulations! Claim now.

hxxps://groupme.myprize.cf/wCt…winner=72217358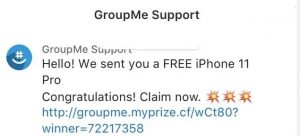 Don't be fooled if you see your name on the text message. It is quite easy these days for scammers to get your name and phone number. The messages are all fake. The link on the text message directs you to a malicious website.
Moreover, there is no mention of such raffle Giveaway at the GroupMe social media handles below –
If you have submitted financial information on the fake website, immediately contact your bank for help.
Lastly, you can check the comment section below for additional information. Share what you know or ask a question about this article by leaving a comment below.
What Should You Do If You Receive Phishing Texts Like This
No matter how convincing it sounds, you shouldn't visit the link or links attached to such messages/mails or send your personal information.
The first thing you should do is ignore such messages, and look for reviews online about it.
See similar Giveaway scams – Amazon Package Loyalty Reward, UKPepsi Lottery Scam, Eyeverify, Bath$Body Coupon, Amazon Airpods Raffle Scam, Coca Cola Anniversary Scam, and many more.