Beware of the fake Coca Cola 20th anniversary celebration text or post below. It is a scam. Coca-Cola was founded on January 29, 1892, so it's 129 years old, not 20.
This review expose everything you need to know about this Coca Cola anniversary giveaway, and why it is fraudulent.
How Does The Coca Cola 20th Anniversary Survey Scam Work?
The giveaway message is created by fraudsters who want to steal your personal and financial information. How does this work? It makes you complete a bogus survey. Then claims you have won a cash prize.
When you visit the site to redeem your gift, you'll be told to provide your credit card info. If you do so, the fraudsters will remove the money in your account. This is because they're not the legit Coca cola company.
In reality, they don't have any free gift for you. The survey is just a bait to gain your trust.
The Viral Coca Cola 20th Anniversary Scam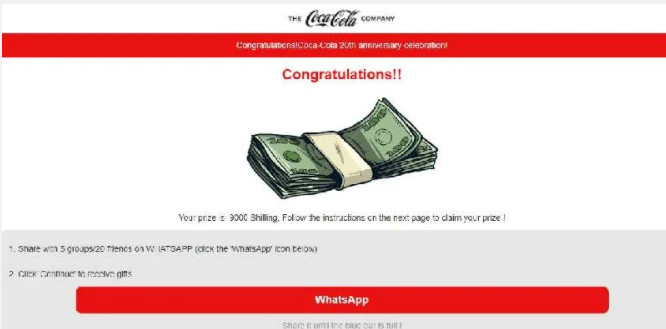 Don't be fooled by how legit it looks. Below are signs of a fake Coca Cola Text or Mail
Looks official and appears to come from a financial institution
Contains a claim number and may even include a false cheque that appears to be from Coca‑Cola
Has spelling and grammar errors
Uses improper company trademarks
Is sent from a free, non-corporate email account
Asks for personal information and promises a quick financial gain.
Source – Coca-Cola.co.uk
If you have submitted financial information on the fake website, immediately contact your bank for help.
Lastly, you can check the comment section below for additional information. Share what you know or ask a question about this article by leaving a comment below.
What Should You Do If You Receive Phishing Texts Like This
No matter how convincing it sounds, you shouldn't visit the link or links attached to such messages/mails or send your personal information.
The first thing you should do is ignore such messages, and look for reviews online about it.
See similar Giveaway scams – Amazon Package Loyalty Reward, UKPepsi Lottery Scam, Eyeverify, Bath$Body Coupon, Amazon Airpods Raffle Scam, Adidas Scam, and many more.