First of all, Itsdollar.com does not pay. Forget the positive reviews online, it is not a trustworthy influencer network. Our Review of this Influencer Network serves as an eyeopener.
About ItsDollar Influencer Network
itsdollar or Its Dollar located at itsdollar.com is allegedly the number one social media network platform. They claim they can make you loads of money from the comfort of your home. According to the words on their homepage, ItsDollar is the #1 Social Media network connecting influencers to advertisers!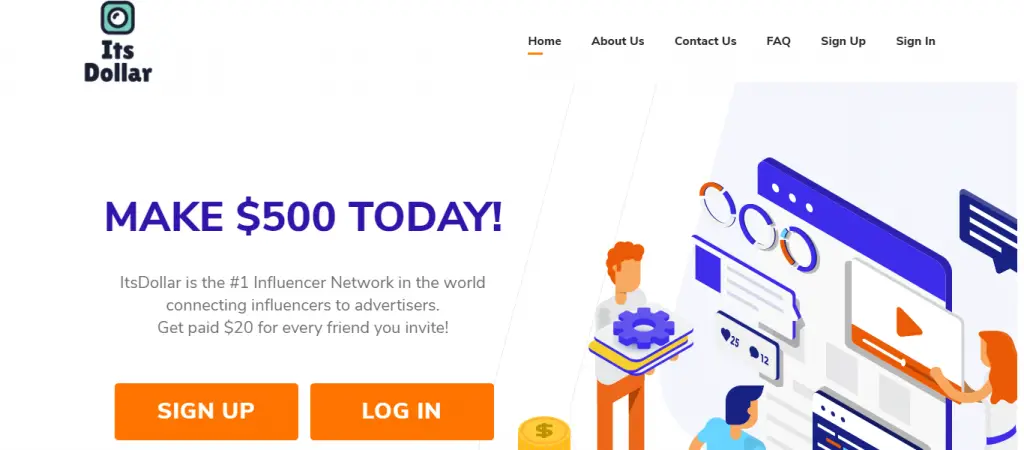 You get paid for completing tasks and surveys. They also claim to pay $20 for every person you invite.
Sadly, their words are not genuine. It is just well crafted lies that serve as bait.
Read on to know more about this 'acclaimed Social Media Influencer Network"
5 Reasons Why itsdollar.com Is Not Worth Your Time
In as much as the well designed website would make you think they are real, the truth however remains that some fraudulent platforms pay huge money to have their platform look standard and convincing. A standard looking website does not make a website legit.
During our in-depth investigation about ItsDollar we discovered the red flags listed below.
Misleading Information
On the About Us page of Itsdollar, they claim the network was started in March 2015 in Amsterdam, but this is false information. According to Who.is, their website's domain name was registered on March 2020, which is just over a year ago. 
If they have really been in existence since 2015 why are there no tangible information online about them prior to 2020?
Anonymous Lots
After a thorough background search on who the owner/owners of Its Dollar is, we came up with absolutely nothing. This alone is an indication that the people behind this website don't have genuine intentions. If they do, they wouldn't be hiding their details. They simply don't want you to know who they are.
There is something fishy amount the amount of secrecy behind this platform. Can you imagine big companies like Apple, Microsoft and Facebook not having a CEO or board of directors? 
Poor Social Media Presence
Though they claim  they are the biggest names on social media, they have very poor visibility on social media. The two Itsdollar social media pages we found have less than 500 likes and were created less than 3 months ago. This is something to ponder on.
Fake Address
The address provided on itsdollar.com contact page is absolutely fake. Its Dollar is not physically located at  20 W 34th St, New York, NY 10001. When we checked Google map we discovered the address is that of an apartment home not even an office space.
Fake Testimonials and Videos
Though the testimonials and videos about ItsDollar might seem so real to you. The truth is that those comments are unverifiable, and simply done by the guys behind ItsDollae.
As for the videos? You shouldn't be attracted. There are paid actors online who are willingly to do anything for as low as five dollars. What then is the biggie about lying to have made loads of money from ItsDollar?
Don't be Deceived!
What Users Have To Say About Its Dollar Reviews
ItsDollar users have left reviews online stating that it is a fake survey website. According to these reviews, the website is a waste of time and data. After completing your tasks you wouldn't be able to withdraw the money earned.
Below is what a user have to say about this platform –
After waiting for 30 days they will just inform you that your stats is unauthentic despite doing it right. Definitely a waste of time and a fraud. Do not used this.

James
Afterword – ItsDollar Scam
Is Itsdollar a scam? Is Its Dollar Influencer Network a scam? Yes, it is a scam. The survey site does not pay users for completing tasks or inviting people to the site.
Just like Use2earn, moneygenie.co it is not a real site where you can earn money from completing minor tasks. Forget the lies they are feeding the public. ItsDollar is simply a site that sells your personal information like your email, number and credit card info to the dark web. They are using the $20 referral bonus as a bait to get your attention. No matter how many referrals you bring to the platform, and how many times you share the link, you will never get paid, not even a single cent.
Author Profile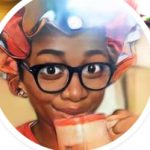 Wendy is a fraud fighter whose contents mainly target online scams. Her investigations have appeared on Itisreviewed,and elsewhere. She spends her free time reading novels, binging on Netflix, and listening to hip-hop.