Shopinexpensive Review – shopinexpensive.com is not a legit online store to buy Wreaths. This review exposes reasons why you shouldn't shop here.
With online scams springing up daily, we have taken the responsibility of reviewing products, stores, websites etc. for our reader's financial safety.
Our Review of this Ecommerce serves as an eyeopener. We hope it meets you well, and on time.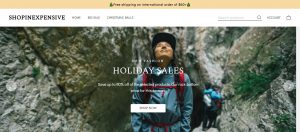 What is shopinexpensive.com Website?
The website is an online store or e-shopping site that deals in bags. However, it is also selling other unrelated items like Christmas Bell, Wreaths, Christmas Ornaments, etc. which are been sold for super cheap prices.
Are you thinking of shopping from Shopinexpensive.com? Don't do so yet! A lot of things don't add up about the site.
See the following factors that make ShopInexpensive a suspicious online store.
Why shopinexpensive.com  Is Risky- Redflags Discovered
Shady Contact Info
The store's email address '[email protected]' has been used by multiple online stores that are already blacklisted, eg ShopFavorable. Even the phone number ' +1 7659868034' is linked to shady sites. This doesn't speak well of the store.
Ridiculous Discount
The saying 'if it is too good to be true, it certainly isn't true' applies to this store. Ridiculous discounts and very cheap prices are the traits of shady online stores. The low price makes you lower your guard, and end up falling prey to scammers.
The website shopinexpensive.com was registered on 7th of October 2021, barely 23 days ago, thus there's no guarantee. Newly registered websites are often considered suspicious till they hit the six months mark.
Return Policy
This store's refund and exchange policy is just a sham. In reality, there's no way to contact the store for a refund. Customer mails were not replied.
Security Measures
shopinexpensive.com lacks authenticity. The trusted Seals from VISA, PayPal, STRIFE, and MasterCard are all fake. They are copied images with no link to the authorized page. This is also the case with the social media icons on the website.
Conclusion:
From all indications, shopinexpensive.com is not an authentic online store. It has a poor trust score, and as such not recommended by us. 
Just like Happygo, Bxirt and other shady wreath sites reviewed earlier, customers would receive a cheap dollar wreath.
Have you been scammed?- Do This
Shopping from this store exposes customers to the risk of hacked credit card and overcharged fees. Also, customers would either receive an inferior item, a different cheaper item, or nothing at all.
Therefore, it is advised to file complaints to your bank and request for a new credit (debit) card. On the other hand, if you used Paypal as a method of payment, you should document (screenshot) the transactions for future purposes.
Yes, it is true that online shopping has made life easier, however when ordering things online check out the following-
How old is the website? Does it provide return address? Are there customer reviews online? Do the social media icons work?
Always remember you can get the items from trusted sellers on Amazon, like the ones provided above. One of the advantages of shopping from amazon is the return policy. If you are not happy with your order, you can always return your items and get your money back.