Reborn Dolls Shop located at reborndollsshop.com is not a legit store to buy realistic reborn dolls. Read this review to find out why our scam detector listed Reborndollsshop.com as a fraudulent site.
According to FTC, online shopping and negative reviews is the second most reported fraud category in 2021. As a result of this, we have taken the responsibility of reviewing products, stores, websites etc. for our reader's financial safety.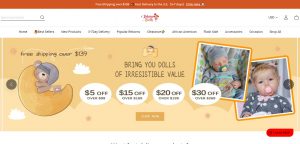 What is reborndollsshop.com Website?
The website is an online store that deals in variety of realistic baby dolls like the real lifelike Carley, Realistic lifelike baby girl with heartbeat and coos, Lifelike Alina Reborn Baby Doll Girl etc. which are been sold for super cheap prices.
Unfortunately, Reborndollsshop.com is not a genuine reborn dolls store. During our investigations we discovered the following drawbacks –
It doesn't deliver the exact doll advertised this is because they steal REAL reborn doll pictures to dupe people into buying their cheap knock offs. A classic bait and switch scam.
The store has more than seven hundred one star ratings on Trustpilot. Complaints range from inferior dolls to poor customer service.
At this point you should be thinking of aborting mission! But if you're still keen on shopping from this store, continue reading!
Other Reasons why you shouldn't shop from reborndollsshop.com
Ridiculous Discount
Reborn Dolls Shop is selling it's products for too good to be true prices. The realistic reborn dolls for instance is being sold for $36 – $39, but in reality the cost of real realistic dolls is between $100 – $250 as seen here.
Like the saying 'If It is too good to be true it isn't true', low prices and ridiculous discounts serve as baits for fraudulent online stores. This is because humans tend to lower their guard when they see super cheap items.
Shipping & Delivery
RebornDolls Shop is physically located in Longgang District, Shenzhen which is in China. Shipping and delivery takes weeks, or months even. Meanwhile, the store's location is a major turn off.
It is no news that China is the home of counterfeit products. There is no denying that counterfeiting as a kind of social phenomenon widely exists in China.
Reviews
Customers who shopped from the store were totally disappointed with their order. Instead of the picture on the website they received a cheap imitation.
Below is what a customer has to say –
I was so happy when i saw it in the package and it looked nice… but when I opened it I cried… I was SO DISSAPOINTED I didn't talk for a while… I'm never gonna go online shopping… now I have a boy black curly hair baby instead of a blonde haired baby with BEAUTIFUL hands and cute face but now I'm going to review EVERY website ever!!!!!!!! .

Luana
Return Policy
This store's refund and exchange policy is just a sham. In reality, the doll comes in a box that clearly says 'No Returns'.
Conclusion:
From all indications, reborndollsshop.com is not an authentic online store selling reborn dolls. It has a poor trust score, and as such not recommended by us. 
Just like RsgDolls, AnniesDollx, KaydoraDolls, and other reborn dolls site located in China, customers wouldn't receive the item they ordered but a cheap knock off.
Have you been scammed?- Do This
Shopping from this store exposes customers to the risk of hacked credit card and overcharged fees. Also, customers would either receive an inferior item, a different cheaper item, or nothing at all.
Therefore, it is advised to file complaints to your bank and request for a new credit (debit) card. On the other hand, if you used Paypal as a method of payment, you should document (screenshot) the transactions for future purposes.
Yes, it is true that online shopping has made life easier, however when ordering things online check out the following-
How old is the website? Does it provide return address? Are there customer reviews online? Do the social media icons work?
Always remember you can get the items from trusted sellers on Amazon, like the ones provided above. One of the advantages of shopping from amazon is the return policy. If you are not happy with your order, you can always return your items and get your money back.