Kaydora is selling realistic reborn baby dolls for affordable price. Are the dolls real realistic dolls or would you receive a cheap imitation? This review provides answers to your questions.
With online scams springing up every day, we have taken the responsibility of reviewing products, stores, websites etc. in order to save you from making wrong decisions.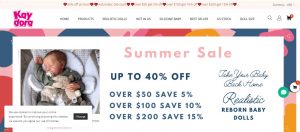 About Kaydora
Kaydora located at kaydora.com is an online store that deals in variety of realistic baby dolls like the real adorable lifelike twins, Lifelike Newborn dolls, Beautiful Asleep Cute Lifelike Veronica baby, etc. which are been sold for super cheap prices.
Unfortunately, Kaydora is not a genuine reborn doll site. First of all, the pictures on the site are stolen from the real doll artist pages. What does this mean? simply put – The doll images are not theirs, so what'd you receive is a counterfeit of the dolls.
Kaydora engages in false advertising. The real dolls it makes are a far outcry from the cute newborn dolls on its site. A perfect example of 'What I ordered Vs. What I got"
What else? Continue Reading!
Disadvantages of Shopping From Kaydora.com:
Delayed Shipping & Delivery
Kaydora.com the impression that it is located in United State whereas it is not so. In reality, the store is physically located in China. As a result of this, shipping and delivery takes several weeks.
Terrible Return Policy
This store's refund and exchange policy is just a sham. In reality, customers are offered jus $5 or $10 when they ask for a refund. If you insist on returning the fake doll you'd be made to pay for shipping back to China. In most cases the shipping fee is higher than the price of the doll.
Negative Reviews
On TrustPilot, Kaydora.com has more than 70 bad reviews and ratings from customers. According to the reviews, the doll received is nothing like the doll shown on the website. Instead of Silicone, it was cheap Vinyl. The dolls are creepy and smelt like bug spray.
See what a customer has to say below –
This experience has been such a headache. The most awful, ugly, cheap doll was sent that was completely different to the one advertised. I have sent over 12 emails to the company and the most they are offering as a refund is £10 on a doll that cost £38. My daughter is so upset after saving for over a year and using her birthday money. Terrible experience. DO NOT buy a Kaydora doll!

Alice
Is Kaydora Dolls a Scam?
From the crucial points noted above, Kaydora has a lot of red-flags. It is a suspicious online store that engages in bait and switch scam. When orders are placed, customers receive a horrible looking doll instead of the realistic lifelike baby. In reality, the exact dolls can be gotten for $5 dollars in dollar store.
Sadly, the return policy makes no room for returns. Customers only get $10 as compensation.
Conclusion:
From all indications, kaydora.com is not an authentic online store. It has a poor trust score, and as such not recommended by us. 
Just like Peetlos, Mondreamy, BellaTrends, Hsbrace, Usgoodssale, and other reported suspicious websites, customers wouldn't receive the item they ordered but a cheap item or nothing at all.
Have you been scammed?- Do This
Shopping from this store exposes customers to the risk of hacked credit card and overcharged fees. Also, customers would either receive an inferior item, a different cheaper item, or nothing at all.
Therefore, it is advised to file complaints to your bank and request for a new credit (debit) card. On the other hand, if you used Paypal as a method of payment, you should document (screenshot) the transactions for future purposes.
Yes, it is true that online shopping has made life easier, however when ordering things online check out the following-
How old is the website? Does it provide return address? Are there customer reviews online? Do the social media icons work?
Always remember you can get the items from trusted sellers on Amazon, like the ones provided above. One of the advantages of shopping from amazon is the return policy. If you are not happy with your order, you can always return your items and get your money back.