Is Hsbrace.com a scam or legit store selling massage gun? would you receive your order in time? is the website located in United States? Read this review to find out everything you need to know.
With online scams springing up every day, we have taken the responsibility of reviewing products, stores, websites etc for our reader's financial safety.
This Hsbrace reviews exposes everything you need to know about the online store.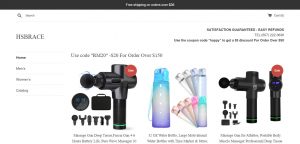 Hsbrace.com – Website Details
Hsbrace is a website that sells different kinds of items like massage gun, 32 OZ water bottle, knee brace, waist trainer, etc. for very affordable prices.
The website has provided the following contact information –
Email – [email protected]
Phone Number – (657) 222-3636
Address – 11401 Briarcreek Loop Manor, Texas, 78653United States
But, does this make it a legit site to shop from? Not at all!
A lot of fraudulent websites make their website look standard. BUT they're not safe or legit. In most cases, the address, phone number or email are just a sham.
From our findings, Hsbrace is one of such websites. Below are reasons why we think so –
Reasons Why Buyers Should Avoid Hsbrace.com
Fake Business Address:
Hsbrace.com has provided its physical address as Texas United States but in reality it is located in China. The Texas Address belongs to a single family home that has nothing to do with this online store.
The fake address is used to gain customer's trust. According to the website registration details found online, Hsbrace.com is registered in Jiangsu China.
Poor Customer Support:
Customer support for this website has a low score. The phone number on the site isn't functioning. Customers can only contact the store using the email address ' [email protected]'. Which in fact isn't available. Mails sent to the email address were not replied.
Security Measures:
There are no trusted seals vouching for its authenticity. The security badges from McAfee, PayPal, Verisign, BBB are fake. This makes the site an unsafe place to shop from.
This is because your credit card details might be at risk. You could be overcharged for an item, or receive subsequent debit alerts in the future.
Shady Refund & Return Policy:
The Return policy is another cause for alarm. There's a caveat in the page that says customers will be charged for shipping costs. This doesn't look good at all.
Most times, the shipping costs might be a little below the price of the ordered item. As a result of this, customers are stuck with the item.
Shipping and Delivery:
Hsbrace is physically located in China, and as a result of this shipping and delivery might take weeks or months even. The claim that orders would be delivered in 3-5 business days in totally false.
Conclusion:
Hsbrace.com is not a reliable online store to shop from. It has a poor trust score, and as such not recommended by us. Customers who shop from this store would either receive a different cheap item or nothing.
Unreliable websites like this are not safe to shop from. This is because shopping from this store expose buyers to the risk of hacked credit card and overcharged fees.
It is true that online shopping has made life easier, however when ordering things online check out the following-
How old is the website? Does it provide return address? Are there customer reviews online? Do the social media icons work?