Interested in buying dresses or shoes from Bella Trends? Read this review to find out why our scam detector gave bellatrends.co a poor trust score.
According to FTC, online shopping and negative reviews is the second most reported fraud category in 2021. As a result of this, we have taken the responsibility of reviewing products, stores, websites etc. for our reader's financial safety.
Our review of this online shop serves as an eyeopener. Don't shop from Bellatrends.co before reading this review!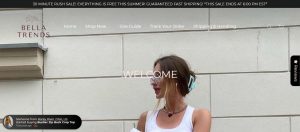 What is Bellatrends.co Website?
Bellatrends.co otherwise known as Bella Trends Co is an online store that deals in variety of women's wear like dresses, accessories, shoes, etc. And these items are been offered for $0.50 Yes, you heard me well! You only need to cover shipping.
But is it worth it? or is this another 'Just Pay for shipping' scam?
If you're searching for Bella Trends Reviews, you're at the right place.
Website Description
Name: Bella Trends
Type: Online Store
Link: https:// bellatrends.co/
Email: N/A 
Date of Registration: August 2021
The website is 2 days old
Company and Owner Information: N/A
Company Location:  N/A
Contact Number: N/A
Pros of Bellatrends.co
Products are for women.
Website is secured with SSL encryption
Accepts various means of payments
Drawbacks:
Offers no return address.
Offers no contact information
Website Lacks seal trusts for authorized organizations.
Offers ridiculous discounts: 100% discounts on all goods.
Doesn't use original images.
Provides no company information
Provides no social media links
Stolen Contents
bellatrends.co makes use of images stolen off from a designer's online store. As can be seen through Google search image, the clothes and jewelries are not originally that of Bella Trends online store.
What this means is that they're passing off another person's work as this. What they'd send customers are likely cheap imitations that don't look like the real thing.
This is because the real makers of the fashion accessories don't sell them for such cheap prices.
Customer Complaints
Costumers who shopped from this store have left reviews online stating that they were made to pay $79 for shipping. Also, they couldn't track their packages as no tracking info was given. All efforts to contact the store has proved futile.
Is Bella Trends Legit?
From the crucial points noted above, Bellatrends.co has a lot of red-flags. Customers were unable to contact the store after placing their order as there is no phone number available on the website.
Also, bellatrends.co has provided no return address so there is no way customers could get a refund. Also, the email does not serve its purpose, customers mails are never replied.
Conclusion:
From all indications, Bellatrends.co is not a reliable online store selling women's clothing.
At the end of the day, just like Charmitata, Sareedzire, Bawsk, customers don't receive the exact items they had ordered but a different cheap item.
If you're not patient to wait for months to get your padlock chain, you should consider buying from these Amazon sellers below. The delivery is swift, and response is timely.
Have you been scammed?- Do This
Shopping from this store exposes customers to the risk of hacked credit card and overcharged fees. Also, customers would either receive an inferior item, a different cheaper item, or nothing at all.
Therefore, it is advised to file complaints to your bank and request for a new credit (debit) card. On the other hand, if you used Paypal as a method of payment, you should document (screenshot) the transactions for future purposes.
Yes, it is true that online shopping has made life easier, however when ordering things online check out the following-
How old is the website? Does it provide return address? Are there customer reviews online? Do the social media icons work?
Always remember you can get the items from trusted sellers on Amazon, like the ones provided above. One of the advantages of shopping from amazon is the return policy. If you are not happy with your order, you can always return your items and get your money back.