Have you received a phone call from 02079477502? Were you threatened of legal action and asked to press 1? If yes, do not panic! A lot of people have received calls from these scammers pretending to be from Central London County Courts.
The scammers claim to be investigating potential victims' National Insurance Numbers. But in reality they are after your National Insurance Number. So what should you do?
Simply Ignore the phone call! I repeat – Ignore the phone call! Do not follow the instructions.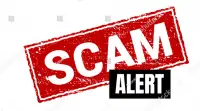 02079477502 Central London County Courts Scam
The way this anarchic scam work is this way-
This number calls you
Once you pick, they tell you they are from Central London County Courts or HRMC.
You'll be asked some personal questions regarding your National Insurance Number.
If you supply the information, it'd be used to cause harm to you.
How? If they access your national insurance number, they can steal your entire identity, take loans out in your name and turn your life upside down.
What You Should Do When You Receive a Call From This Number
Because this call can be repetitive, especially if you don't fall for the bait of calling them back, we advise that you to block this number from calling you. Don't know how to do so? This article will teach you how to do so.
Be wary of calls from number like 02079477502.
Also, if you are in doubt about any platform- be it trading, shopping, investments, or even emails. We are always here to guide you make the proper decision.
All you need to do is go here >>>> Fill The Form