Cash-tub.com claims you earn up to $7 daily watching videos. Just like that! But the question you should ask yourself is how real is the offer? Can you really make money from this Paid to View site? Unfortunately, nothing's as easy as that.  If you've been looking for a Cash-tub review to check the credibility of the site, whether it's legit or scam, read on.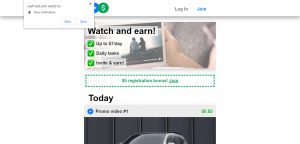 What is Cash-tub.com?
Cash-tub.com opened in July 2021, appears to be a "Paid-to-view" site with unrealistically high rates of rewards. It claims that you can earn an average of $7 per day.
Your main job as a user is to watch videos. Unfortunately, the site does not mention the minimum withdrawal amount or anything tangible for that matter.
The Owner Is Unknown
First and foremost, no owner's information is displayed anywhere on the site. The "About Us" section tells you something that's irrelevant to them.
So tell me, how can you ever believe anything that they say, when their identity is totally hidden? If it's supposed to be a paid-job opportunity, you want to know exactly who you'll be working for, don't you? This is like a stranger comes up to you on the street and says, "do you work and I'll pay you in a few weeks' time." Of course, the stranger will never come back. So there's no reason why you should trust Cash-tub even for this reason alone.
No Legal Disclosure
The CashTub site does not display a privacy policy, terms & conditions, or doesn't have any page that includes legal disclosures. It lets users sign up freely, without confirming how it treats users' private data (names and email addresses). This indicates that your information is most likely to be sold to third parties without consent, which is illegal.
Where Does The Money Come From?
How does Cash Tub run its business? Does it make money enough to pay you? You can see some CPA ads by YouTube (Adsense) but that won't be enough to pay the users. You would think that CashTub t is working as an advertising platform where the news sites can reward you for watching videos. But that's not the case because no news is actually there!
So What's Cash-tub.com Really About?
Cash-Tub makes its money by selling your login data (name and email address) to third-party spammers. Without disclosing a statement that protects users' private data, that's presumably the case. Not only will you never make a single cent with the site, but you may start receiving spam emails from companies or individuals that you've never heard of, sooner or later.
Deceiving users this way is bad enough, but it's also useless from a marketing point of view.
Is Cash-tub.com a Scam?
The users who have complained on Trustpilot are calling it a scam, and I think it deserves to be called so since the intent is nothing but deceitful. But at least it's free to join, you won't be losing your money, the only thing you'll be losing is your time. The worst that can happen to you is that your spam mail folder will be filled with low-quality promotional emails. 
Forget the lies they are feeding the public, cash-tub is simply a site that sells information. They are using the $5 sign up bonus as a bait to get your attention. No matter how many videos you watch, you will never get paid, not even a single cent.
Just like Classnovost, cash-tub.com makes money by selling your information, feeding their site with virus that would crawl into your computer and steal your information. Beware of this malicious site.