Looking for Hey Silky Skin reviews? Search no more! This review exposes everything you need to know about the product, the customer support, shipping & delivery, and users experiences.
Is Hey Silky Skin worth the hype? are the reviews online genuine or fake? is the 100% money back guarantee real? let's find out!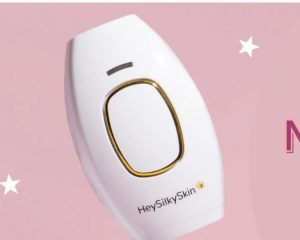 HeySilkySkin Hair Removal: What You Should Know
This product is a DIY gadget that helps save you money from visiting professionals. The handset's flash converts to heat which stimulates the hair root, triggering it to go into resting phase. Hair then falls out naturally and regrowth is slowed, and then prevented after a few uses.
So how is it used?
turn on the device
set the desired energy level (1-5);
if it's your first time, use level 1, and tune-up gradually.
The IPL emits light or flash that feels like a pinch or an insect bite on the Skin.
Other things you need to know –
You have to shave the area first before using this product
It is not suitable for dark skin or Tattooed skin
It can be used on the Face
Does not work on gray hair
Now, this might seem like an ideal product for you, especially if you've been battling fast growing hair. But you my dear, need to know the following truth:
Faulty HeySilkySkin Handset
Majority of users have complained that the laser hair removal doesn't work as acclaimed. In most cases, it emitted a buzz, but didn't do any shaving due to electrical faults. While in other cases, it worked twice or thrice, then stopped working totally.
Poor Customer Support
The customer support is quite poor, and frustrating. Most customers had their queries pending for days. Its been one dead end to another in trying to get a meaningful feedback from the company.
Fake Money Back Guarantee
This is one of the biggest issues customers have with the company. Unlike the 100% money back guarantee claim on the website, it is tough returning the product. Customers are told that they can't return the device if they've opened the package.
Now, this is one hell of a BS. How would customers test the product if they don't open the seal? How?
Plus why have they hidden the return policy? The Rules are hidden on the site so customers won't find out not until you want a refund. Then you'd be told you didn't follow the rule!
Fake Reviews
Most of the reviews on Facebook, YouTube, and TrustPilot are fake. Scripted lies! I bet you not. You see, when you take a close look at their Facebook page, you'd notice some comments are being deleted. Also, there are a handful of angry emoticons on the posts. From displeased customers you think?
See what a user has to say about HeySilkySkin –
Does HeySilkySkin Laser Hair Removal Work?
Heysilkskin device does not work effectively. The reviews on Trustpilot and Facebook are scripted to the favor of the company. Real customers are not allowed to leave negative reviews on the Facebook, as the reviews portray the company in a bad light.
Customers faced the following problems when they used the product – faulty handset, poor customer support, and fake money back guarantee.
Obviously, heysilkyskin is not worth your money! So we do not recommend it!
Have you seen this AntiSnore Device?