Barbara calls it an uncomfortable device that doesn't stop snoring. According to this customer, EarPap anti snore device only wakes you up when you snore. The claim it detects and corrects snoring without waking you up has been tagged false.
But why are there glowing reviews online? Why is this device glorified as the new miracle product?
This review answers all your questions.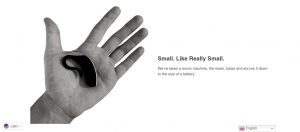 EarPap Anti-Snoring Device: How Does It Work?
The science behind this product is pretty much simple. Unlike CPAP machines, EarPap doesn't send a steady flow of oxygen into your nose and mouth as you sleep. There's no tube or head gear, it is just a small device that you wear on your ear like an Airpod, ( I think that's how its derived its name), then it does the following –
Automatically detect snoring using built-in sensors.
Uses electrical muscle stimulation (EMS) to stimulate the vagus nerve in the neck
 This will then re-open the collapsed airways.
Viola! No more snoring. Sounds quite simple right?
It even has the following perks – Its rechargeable, comes with an App that helps you track and analyze your sleep quality over time.
But wait 🤚🏼 should you really spend $169 on this device?
EarPap Reviews: Real Customer Experiences
As a rule, before buying any thing online I always dig for genuine independent reviews. Why? Because I've been burnt many times by fake stores and products. I once bought an air conditioner that was the rave of the internet, ended up being a sham. Same with this Mouthpiece toothbrush and this ear wax cleaner.
So yeah, I had to go digging again for genuine reviews, and boy, I really hit some can of worms! Forget the positive reviews on myearpap.com, there seem to be something fishy going on their Facebook page.
First, I noticed lots of comments were being rapidly deleted. Then I visited the Reviews page on Facebook and saw the following –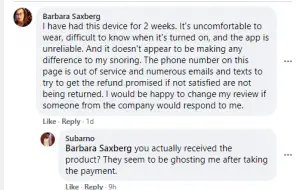 According to the above review, EarPap is uncomfortable to wear. Barbara says it is difficult to know when it's turned on, also the app is unreliable. After using it for two weeks she noticed it doesn't make any difference to her snoring.
Hmmmm, sounds interesting. Let's see what another customer has to say about EarPap AntiSnore Device.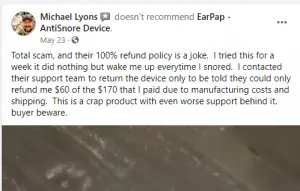 According to Michael, the device did nothing but wake him up every time he snored. After using it for a week, his patience wore out, and he had to look for means to return it.
Meanwhile, it is worth noting that these two customers had similar experience when they tried returning the device. Below is what happened –
Had a tough time contacting the customer support
Told only $60 would be refunded out of the $170 paid
Now, this doesn't look good at all. Another customer also complained of being unable to contact the customer support after placing an order. She alleged that it seemed she has been ghosted, as her mails were not replied.
Did this happen to you too?
You can contact the company with these contact details –
Does EarPap Really Work?
I honestly can't say. It claims to help people with snoring problems, but real reviews indicate it doesn't do so.
We are skeptical about EarPap as there are a lot of red flags that shouldn't be ignored. Have you shopped myearpap.com? What were your experiences? Please drop a comment!