Did you receive a text message allegedly from ICBC about a one time gas rebate of $110 or $165? Beware It is a scam! ICBC does not issue any rebates to customers via text message or email.
Currently, thousands of people have complained of receiving suspicious looking text messages from ICBC. Do not fall for it!
ICBC Rebate Scam Text: What Is It?
It's a text message that is being sent by scammers shortly after Premier John Horgan announced the one-time relief payment to drivers. The Insurance Corporation of BC began sending out insurance rebates this month to help drivers with surging gas prices, and some scammers are taking advantage of the situation to try and defraud British Columbians of money.
Recipients are made to believe that it's from the right source, but this is false. It is actually a kind of scam called Phishing scam.
The first scam icbc rebate text directs recipients to a suspicious looking website for their $110 one-time gas rebate –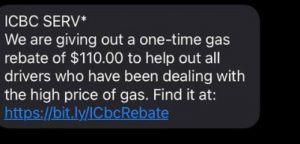 However, the current ICBC scam rebate text comes in a different format. Instead of a link, it tells recipients to text 'Y' to receive their $165 gas rebate. See Image below. Of course, this is a scam! Once you follow the instruction, the scammers would send you a link to a fake ICBC website.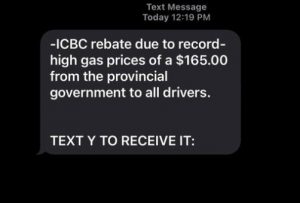 Once you click on the link, it'll take you to a malicious website. This website will ask for your bank details. If you provide the details, large sum of money will be removed from your account.
Meanwhile, ICBC has released a statement, warning the general public of the ongoing scam. They have also issues advice on how to avoid being scammed. "​If you receive a text message asking you to click a link to receive your relief rebate, please delete the message –  this is a scam."
How Will You Receive Your ICBC Gas Rebate?
First of all, ICBC would never ask for your bank details with regards to gas bills. Neither will they contact you via text message or email. This is because you will not need to take any actions to receive your rebate, which will be processed automatically.
People who have signed up for direct deposit with the insurer will receive the money directly to their bank account, while customers who paid via credit card will have a credit applied to that card between May and June.
People who used other forms of payment will get a cheque in the mail starting in June.
Received ICBC Rebate Scam Text? Do The Following!
You should delete the text immediately as it is obviously a phishing scam. Meanwhile, do not forget to inform your family and friends. Please they should not click on the link if and when they receive such message.
Also, you can report scams, untrustworthy websites and tell us why you consider the websites fraudulent. See similar phishing scam; Wal Tracking Scam, Delware BPO Scam, Publix 90TH Anniversary, etc.