Do you battle with miserable heat and hot temperature? Do you want to buy Hurricane Freeze Personal Air Cooling Unit? Don't do so yet! Read this review to find out everything you need to know about this portable ac.
Our Review serves as an eyeopener. We hope it meets you well, and on time.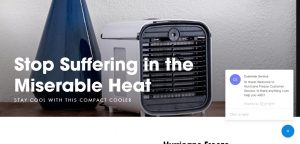 Hurricane Freeze : What is it?
It's a compact air cooler that uses little electricity to keep the air cool. According to hurricanefreeze.com, this portable AC is ultra quiet, eco friendly, and transforms your Hot & Stuffy Room into a Cool & Breezy Paradise. Meanwhile, it also serves as a purifying humidifier.
Sounds interesting right? Could it really cool a room? Lets find out!
How To Use
Neatly assemble the part using the instruction manual
Add its filters and fill it with water
Plug it into an electrical switch and turn it on.
What we Like about Hurricane Freeze AC
It's portable
It comes with an instruction manual
What we don't like
False advertising – it is been advertised as an 'Air cooler' whereas it is just a humidifier.
Quite expensive – Hurricane Freeze is sold for almost $60, whereas similar 'portable' ac are sold for below $30 on Amazon, Aliexpress, etc.
It is not a better alternative to air conditioner or regular fan.
 It can make your room cool only if your room is very small like the size of a bathroom.
Does Hurricane Freeze Really Work?
89 users have left 2.7 star rating on Amazon, stating they were disappointed with their purchase. According to the reviews, Hurricane Freeze AC does not work as claimed. It is only effective in a very small sized room. Aside that, it serves as a humidifier in a normal sized room, thus making you uncomfortable in the heat. See the reviews below –
These units do not cool anything off and this is fraud. I bought three of these units hoping to cool off a small bedroom. These units did not cool anything and are junk. Do not spend a nickel on this . The fact that they don't pay for returns or supply a return sticker and you are expected to pay again to have this junk sent back… buyer beware!!!
It is not what I thought it would be for example you have to fill it up with cold water yes I do mean cold

I put a 16oz water bottle in the refrigerator and the next morning I pour it in the water reservoir and it is

like you are in an air conditioning room; the thing that will make it better is where do you get a new filter once that is dirty?
Conclusion
Hurricane Freeze is not an Air Conditioner Perse, but a swamp cooler. For an Air Cooler of that size, one shouldn't have high expectations. Just like Arctos AC, costumers might not be satisfied with their order.
If you're still thinking of giving portable Air conditioners a try, the ones below are better options for your money.
BUY BEST RATED PORTABLE AIR CONDITIONER ON AMAZON