Are you battling hair loss? Do you want to buy the anti-hair loss comb called Hairpoww? Read this review to find out everything you need to know about Hairpoww laser hair growth comb.
With online scams springing up every day, we have taken the responsibility of reviewing products, stores, websites e.t.c in order to save you from making wrong decisions.
Our Review of this product serves as an eyeopener. We hope it meets you well, and on time.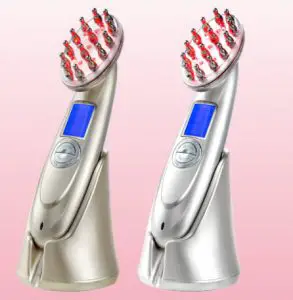 What Is Hairpoww?
Hairpoww is an anti hair loss comb that uses low power soft laser technology to stimulate the hair follicle, activate the cell and improve metabolism. Suitable and designed for both women and men, this infrared brush works by means of a low-frequency infrared laser. This means regular massages with it will improve the blood supply to the scalp and make it easier for the hair root to become stronger.
It allegedly helps achieve 20% more hair growth in just 12 weeks.
Sounds incredible right? However, there are lots of doubts about this product. Like; Is it safe, how long should one expect a change? are there any disadvantages of using it? Continue reading to find out the answers to these questions.
Is Hairpoww Electrical Hairbrush Safe?
Hairpoww uses a technology called 'Red Light Therapy' which is simply the penetrating of pores and skin on the scalp with low and secure rays. According to reports online by researchers, red light therapy is a safe effective natural hair loss treatment that's reliable for both male- and female-pattern baldness. Across study after study, red light treatments have increased hair counts, boosted hair thickness, and helped people improve their appearance and confidence levels.
When do you see results?
Hairpoww.com says users of this anti-hair loss comb should expect results in the first 8 weeks. This is because by then, the hair loss decreases and the first results can be seen. Meanwhile, you only have to use Hairpoww 10 minutes a day.
Pros
It  is made with twelve therapeutic massage heads that relieves headaches
Contains Vibration mode + laser mode + LED mode + LED & laser mode to improve hair quality.
Hairpoww is portable and has a rechargeable battery.
Cons
No real customer reviews online
hairpoww.com was registered on January 2022 so it has been working for few weeks
Not approved by FDA – On the website there's a caveat that says Hairpoww hasn't been tested by the right organizations.
Sponsored reviews online – the reviews on SanjunaJournal and the likes are promotional reviews.
Unverifiable testimonials on hairpoww.com
Conclusion
From all indications, it is not clear if Hairpoww anti hair loss comb really works. Just like Fortero, the product has some inconsistencies. There are no real customer reviews about it and the website selling it is a recent one. As a result of this, we advise buyers to tread with caution.
Have you used Hairpoww? Have you noticed any changes so far? Please share your experiences in the comment section below.