Moda Moda is the magic shampoo you've been dreaming of. This is not another fad hair product. It is an all natural shampoo that not only reduces gray hair, but also minimize hair loss.
In fact, the manufacturer's of Moda Moda have a traceable history. Sometime in June 2021 they appeared in Kickstarter. After seven years of joint research and development with Dr. Haeshin Lee (Ph.D.), a chemist from MIT,  the shampoo was launched through Kickstarter.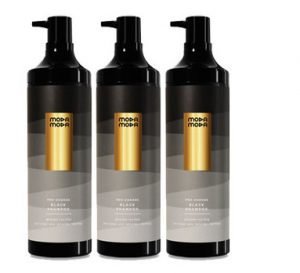 So what makes this hair shampoo special? Why is it the rave of the internet? Lets find out!
First of all, the shampoo is free of toxic chemicals . It gets it darkening agents from the natural browning effects found in fruits and vegetables. Black Sesame, black Mulberry, black truffle, black cumin seeds, and back cherry. Just like these fruits, darkening takes a gradual process, over the course of few weeks.
Thus, the following benefits are gotten from the ingredients:
Melanin production, reduction of greying, new hair growth, stronger hair follicles, and scalp moisturization.
What else can you ask for? No wonder it is also called 'Pro Change Black Shampoo'. It is the change we've been waiting for. A game changer indeed!
How To Use Moda Moda Shampoo
This is not your typical hair dye. Nah! far from that. Moda Moda Pro Change Black Shampoo requires a different routine.
Rinse your hair with warm water.
Apply a good amount on your hair and massage for THREE minutes.
Rinse with warm water.
Viola! Very simple. You should use Moda Moda once a day, nothing extra! In just two weeks, there'll be visible changes!
Moda Moda Shampoo Reviews: Before & After
Reviews on Amazon indicate that the product works efficiently. Customers saw changes within two weeks of use. See image below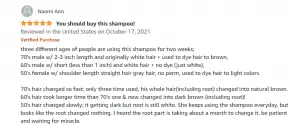 Where to Buy?
Guess what? you can't get it on Amazon. It's currently SOLD OUT. However, you can get it on the official website here or on Ebay. Meanwhile do you know Hair loss is not something to be ashamed of? Lots of people have these issue, but the good news here is that there's a solution to it!