Beware of freshdudes.com, it is a scam! freshdudes located at freshdudes.com is not a legit adult site. Read this review to find out why our scam detector gave it a poor trust score.
According to FTC, phishing scam is the most reported fraud category in 2022. As a result of this, we have taken the responsibility of reviewing products, stores, websites etc. for our reader's financial safety.
About Freshdudes.com;
It is an adult gaming site were people from 18 years above can play imaginative games. When you visit the site, it redirects you to mrkrdz.masculinezone.net. After filling the required options you'd directed to another webpage; slutty-house.com. This is were you'll be made to select your character's body type and that of your partner.
Unfortunately, there's more to what meets the eyes.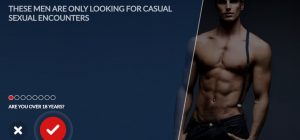 Freshdudes Scam; How does it Work?
It's a phishing scam that charges people $39.99 monthly without their consent. How? though the website claims its online adult game is free, it does the direct opposite.
How does this happen?
In order to secure age verification you'd be told to provide your credit card details. This is where the scam comes in.
If you look at the the tiny characters on the left of the page, it reads-
Your lifetime free access to Premium Adult Games includes a 2 day free trial membership to The Right Time For Loving. If after 2 days you choose to remain a member of The Right Time For Loving and not cancel your free trial, your membership will renew at $39.95 and will recur monthly until such time as you cancel it."

Freshdudes
So far, Consumers have complained about unauthorized debit alerts from freshdudes.
Although their account is a 'Free' one, the site keeps charging them without their consent. This have led to grievances and reactions online, as a lot of people have come to the realization that freshdudes.com is a scam.
Conclusion
freshdudes.com is a fraudulent website. If you've provided your credit card details already, report to your bank and have your credit card changed. This would automatically stop the charges.
See similar site here