If you've come across the Starscope Monocular Advertisement countless times on YouTube, Google or even Facebook, you're probably wondering if the hype is real or if it is another fad gadget.
You must've searched the internet for Starscope Monocular reviews or complaints. There are tons of articles online about the seemingly 'wonder' telescope, but here we'll be revealing real Starscope Monocular user reviews and experiences.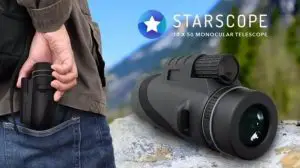 Starscope Monocular – Is this telescope any Good?
The StarScope Monocular is allegedly the best "telescope" lens for your smartphone. According to the advertisement online, with this telescope you can see lots of things from miles away. It is even likened to a $4000 DLSR.
Sadly, this is not true. Just like this fad product, lots of users have debunked the advert, calling it false advertising. According to one of the users who reached out to us, the quality and crispness of the telescope is nothing at all like the ads. It couldn't give a clear image even at just 500ft away.
Similar reviews can be seen on Amazon. However, this is not surprising. First of all, there's absolutely no way a telescope of that size, model, and price can have such stated capabilities. At best, it is just a half binocular.
Meanwhile, aside from the misleading advert, below are other inconsistencies you should be concerned about;
Fake Invention Story
The "backstory" of the product is completely made up from stolen stock pictures. First of all, there's no institution called 'Joe Hopkins University' as claimed by the Ad. It absolutely does not exist! Even the institution image used is that of Oxford new college university.
Meanwhile, the footage claimed to be shot by a smartphone with this "telescope" isn't real. The clips were shot with other cameras and stolen, like this Nikon P900 zoom test from a couple of years ago or they were stock footage.
Customer Complaints
People who've bought and used this telescope have left reviews stating that the starscope monocular didn't meet their expectations. The reviews can be seen on the Amazon link above, also on YouTube. It could only work best for just 200 ft away.
What Experts have to say about Starscope Telescope
The manufacturers of this telescope have been called out for false ads. Sadly, the internet is filled with paid sponsored reviews. This make it extremely difficult for customers to know the truth about the product.
Still, Jaron Schneider, a camera expert on petalpixel.com, has warned the public about this too good to be true telescope.
You shouldn't have high hopes. With Starscope Monocular you can only zoom clear images for just 100 – 200 feet.
Have bought starscope monocular? Please share your review in the comment section.