Blast Auxiliary Portable AC Reviews 2022 – Do you want to buy Blast Portable AC? Don't do so yet! Read this review to find out everything you need to know about Blast Auxiliary Air Cooler.
Our Review serves as an eyeopener. We hope it meets you well, and on time.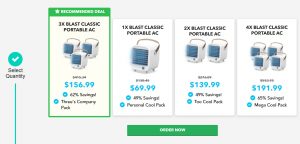 Blast Portable AC: What is it?
It's a portable air cooling system that uses evaporation first and then cools the surrounding environment. It uses the warmer air inside the room and helps convert it into cool air, using its special water curtains. Blast is simply a two-in-one humidifier and air cooler that works to keep you cool and saves you from dryness in the air
Sounds interesting right? Could it really cool a room? Lets find out!
How To Use
Neatly assemble the part using the instruction manual
Add its filters and fill it with water
Plug it into an electrical switch and turn it on.
What we Like about Blast Auxiliary Portable AC
It's portable
It comes with an instruction manual
What we don't like
False advertising – it is been advertised as an 'Air cooler' whereas it is just a humidifier.
It is not a better alternative to air conditioner or regular fan.
Because we live where the summers are warm and humid, Blast portable ac made a moldy mess of our home. 
Although they're sold under different names, with unique packaging and have fancy websites, these so called Portable AC are all the same. They don't really work.
Is Blast Auxiliary Portable AC Legit?
No, it isn't. In fact, an earlier version of Blast Portable AC has tons of negative reviews from users. First of all, it couldn't cool off a tiny bathroom much less a bedroom. Secondly, the 30 days money back guarantee is totally false. The company does not grant returns or refund of whatever kind. Meanwhile, the Blast Auxiliary portable AC is quite overpriced. This exact swamp cooler are available for $15 -$20 on Amazon or Aliexpress.
Conclusion
Just like Getpolaire, Blast Auxiliary Portable AC does not really work. It can only cool a very small part of the area surrounding it, nothing else. Meanwhile, when used for a long time, it makes the room moldy.
If you're still thinking of giving portable Air conditioners a try, the ones below are better options for your money.
BUY BEST RATED PORTABLE AIR CONDITIONER ON AMAZON