Have you received a voice mail or phone call from Affinity Global about a debt? Don't Panic! Read this review to find out what you should do!
This review serves as an eyeopener to help you make the right decision about emails and text messages like this  "Affglo Scam Messages'
We hope this review meets you well, and on time.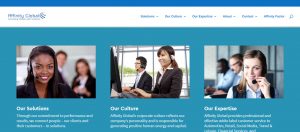 What is Affinity Global?
Affinity Global which is also known as Affglo, is not a scam. It is a debt collection agency that collects debt for a number of industries in the US and Canada. Their clients include banks, credit card companies, automotive, telecommunications and retail.
They use a number of tactics to collect debt, including telephone calls, voice mail messages, letters, etc.
However, what's annoying about the calls is that most times the debt is not from the receiver. It could be from a family member or a friend. So if it's the case, how do you stop the incessant calls?
Affglo Phone Number
The Company uses the following numbers to call people –
877-295-9639
866-350-4275
877-295-9643
888-653-1524
877-295-9644
866-350-1388
866-277-1877
877-234-2310
866-350-7727
866-350-2949  
The sad reality is that when people try to call the company they're unable to do so. Currently the company has more than ninety complaints on BBB.
How To Stop Annoying Calls From Affglo
You can sue Affglo for harassment. Especially if –
You are receiving multiple calls per week from Affglo.
They are calling your family, friends, neighbors, or coworkers
They are threatening you with violence, lawsuit, or arrest
Criminal accusations are being made towards you
Use of obscene language during an attempt to collect
Or you can make a complaint at Better Business Bureau page here The company responds to complaints, and some cases have been solved.
What Should You Do If You Receive Emails or Message Like This
No matter how convincing it make sound, we advise you not to send money or personal information to any stranger without first going online to search for reviews.
You can send us a mail if you're in doubt of similar mails in the future!
Phishing scams are on the increase daily, and we've been able to fish similar phishing scams like – EireVerify, Svieducation scam, Vince Camuto email scam, NYSDOL scam, USPS scam, to mention but few.
ALWAYS REMEMBER TO SEND US A MAIL VIA OUR CONTACT US PAGE IF YOU'RE IN DOUBT OF TEXT MESSAGES, MAILS, OR ONLINE STORES!