Thinking of giving Zolucky a try this 2021? Could the 51,000+ positive reviews on Sitejabber be true? Would you get value for your money? Read this review to find what our fashion critic has to say about Zolucky.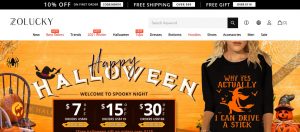 Background:
Zolucky.com entered the online fashion store in 2020, right when Shein started making waves in TikTok. Like every other online store that came after Shein, the goal was to attract customers with coupon codes, seasonal sales slash and free shipping. The fashion store is owned by CHICV UK Limited, a virtual company which has its address at England but in reality operates from China.
What you should Expect from Zolucky
Variety of fast selling dresses, Halloween themed shirts, shirts, pants, and all other piece of clothing women wear. The store mainly caters for women, though it has a section for men. You and I know women are the real lovers of fashion.
Still, a close look at the clothes show that the faces of the models have been cropped out. Why is it so? you may ask.
They are not original. The store has stolen the images on its website from other online fashion stores. This is why the models have their face cropped out.  
Since the designs are manipulated, you would receive cheap imitations, products that are different and quite inferior to what is on the website.
So don't expect anything unique from this store. Its fast fashion of course, shiny, hot selling, but poor quality.
In case you're confused, Fast fashion can be defined as cheap, trendy clothing that samples ideas from the catwalk or celebrity culture and turns them into garments in high street stores at breakneck speed to meet consumer demand. Read more on Fast fashion here
Zolucky Review: What I HATE about this Clothing brand
In order to be at the top of its game, the fashion store has invested lots of money in Fake reviews. This is why when you go to its TrustPilot page you'd see the warning from Trustpilot.

As a result of this, the reviews online are conflicting. One can't tell if the store is genuine, untrustworthy, or fraudulent even. Still, the reviews on PayPal speak for itself.
Secondly, the company behind Zolucky has a bad reputation online. When you search for ' CHICV UK LIMITED' you'd see tons of negative reviews. This company is known for its crappy fashion stores, the likes of Candieslady and Zorilucky which I reviewed back in 2020.
Another problem I've with Zolucky is that the store creates the impression that its physical store or warehouse is located in London. However, this is not so. The Company address is a virtual one that is used to gain buyers trust.
In reality, it operates from China, the website was registered in a state in China 'Anhui'. This means shipping & delivery would take weeks, or months even.
PS: It is no news that China is the home of counterfeit products. There is no denying that counterfeiting as a kind of social phenomenon widely exists in China. Perhaps judging from culture in the broadest sense, counterfeiting represents a kind of culture. 
Oh lest I forget, the fashion store has a terrible customer support, and a more terrible return policy. When you ask for a refund you'd be offered 25% of your money and told to keep the item.
Conclusion:
According to New York Times, Fast fashion is destroying the planet. Fast-fashion brands do not design their clothing to last. In the end, our clothing ends up in a landfill, but fail decay.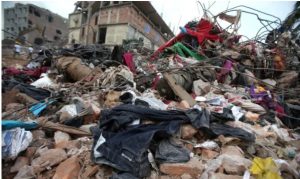 Same with the synthetic microfibers that end up in the sea, freshwater and elsewhere, including the deepest parts of the oceans and the highest glacier peaks.