Have you received a text message from Wolverine FLL Club, the 2021 $1.050 Billion winner of the Mega Millions Jackpot? Is it scam or real? Read this review to find out everything you need to know about the text message, and how it works.
With online scams springing up every day, we have taken the responsibility of reviewing products, stores, websites etc. for our reader's financial safety.
What You Should Know About The Wolverine FLL Club Text Message
Though it looks legit and convincing, the giveaway message is created by fraudsters who want to steal your personal and financial information. How does this work? When you contact the agent to prove your identity, you'll be told to submit a valid ID that has your picture. This could be your Driver's license. Then later, your SSN.
If you do so, you've fallen to the trick of these scammers.
With your personal information they can commit a crime which would be linked to you. Or in most cases, they'd sell your personal details to the dark web.
So yeah, there's no money forthcoming. It doesn't matter if you were promised $10,000 or $20,000 or even $3,650 or $4500. The amount is just a bait.
The Wolverine FFC Giveaway Text Message
The scam message goes like this –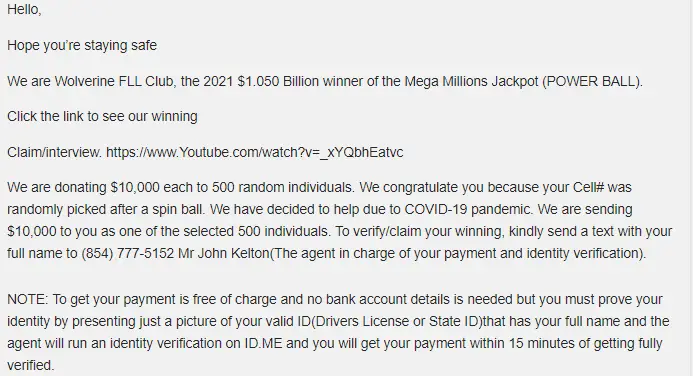 Don't be fooled by how convincing the message sounds, it was clearly written by scammers.
3 Reasons Why The Text Message is Classified a Scam
When you click the YouTube link on the text message, you'd notice the comment button has been disabled.
Secondly, the YouTube Channel 'Michigan Lottery' has absolutely nothing to do with the text message. When we reached out to them, they stated clearly that the text message is a fraud.
These scammers are getting way too good at this, especially to utilize the actual YouTube video with the real winners, and to promote their integrity via a site such as IdMe! However, one thing that they have ALL failed to improve on is their horrible spelling, grammar, and "sayings." Instead of saying, Happy Independence Day, they said Happy Independance…..
If you have already submitted your SSN, you should reach the FTC's identity theft hotline toll free at 1-877-IDTHEFT (1-877-438-4338) or visit their website at www.ftc.gov/idtheft. Consider placing a fraud alert on your Social Security number.
What Should You Do If You Receive Phishing Texts Like This
No matter how convincing it sounds, you shouldn't visit the link or links attached to such messages/mails or send your personal information.
The first thing you should do is ignore such messages, and look for reviews online about it.
See similar Giveaway scams – Amazon Package Loyalty Reward, UKPepsi Lottery Scam, Eyeverify, Bath$Body Coupon, Amazon Airpods Raffle Scam, Coca Cola Anniversary Scam, and many more.