"You have been chosen to participate in our survey. It will only take you a minute and you will receive a fantastic prize a Samsung"
Did you receive the above text?
Guess what? You're not the only recipient. More than a thousand people have received this exact text.
Beware of this Takealot Customer Survey and Prize Giveaway text circulating on WhatsApp ad other social media sites. Do not click the link! It is a scam. Takealot do not have any reward programs.
How Does The Takealot Survey Scam Work?
The giveaway message is created by fraudsters who want to steal your personal and financial information. How does this work? It makes people provide their credit card info before they can claim their prize.
If you do so, these scammers will remove every dollar in your bank account. This is because they're not the legit Takealot company, and they don't have any free phone for you.
The Takealot Customer Survey and Prize Giveaway Scam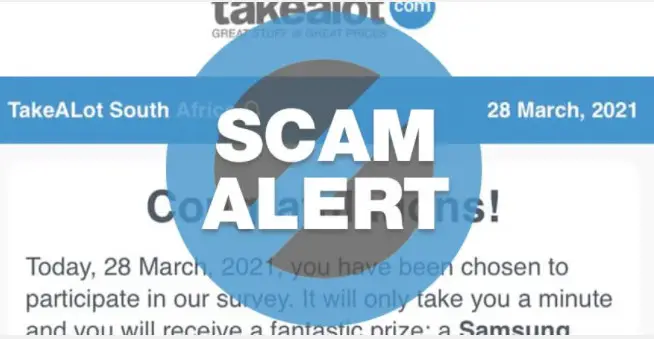 Don't be fooled by the correct date, it is just a ploy to make you think the text message is real. The link attached to the text is not a legit Takealot Website link.
Also, Takealot has left a message on its Twitter page below, warning the public that it is a scam.
Listen, if you have submitted financial information on the fake website, immediately contact your bank for help.
Lastly, you can check the comment section below for additional information. Share what you know or ask a question about this article by leaving a comment below.
What Should You Do If You Receive Phishing Texts Like This
No matter how convincing it sounds, you shouldn't visit the link or links attached to such messages/mails or send your personal information.
The first thing you should do is ignore such messages, and look for reviews online about it.
See similar Giveaway scams – Amazon Package Loyalty Reward, UKPepsi Lottery Scam, Eyeverify, Bath$Body Coupon, Amazon Airpods Raffle Scam, and many more.