SaniWhite toothbrush advertisement on YouTube and Facebook is misleading. If you're thinking of ordering the mouthpiece toothbrush, please don't do so yet. A lot of things don't add up about the product.
With online scams springing up every day, we have taken the responsibility of reviewing products, stores, websites e.t.c in order to save you from making wrong decisions.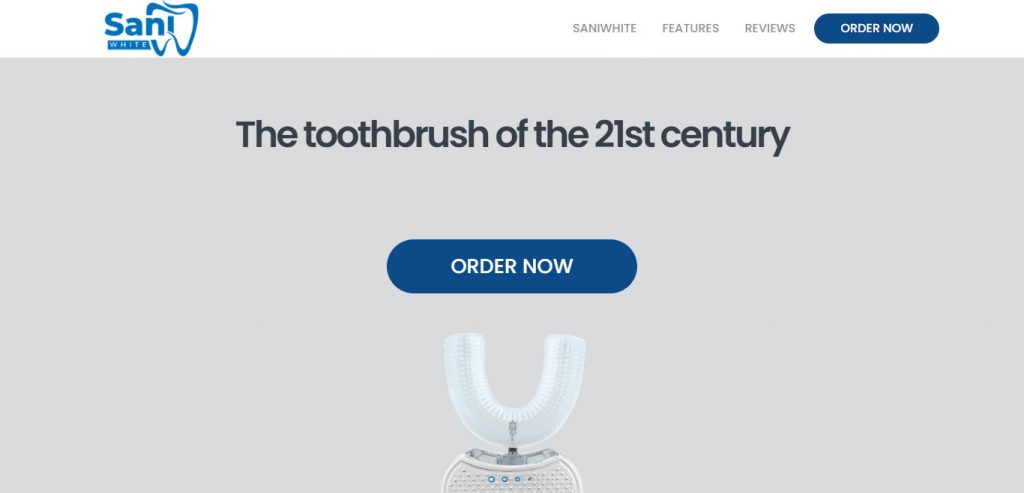 SaniWhite Toothbrush – How Does It Work?
SaniWhite or Sani White is an electronic U shape toothbrush that allegedly automatically cleans your teeth for you in just 10 seconds. This toothbrush falls under the category of mouthpiece toothbrushes, which are becoming the rave of the internet.
However, aside the glowing Advertisement and promotional articles online, there is more to what meets the eyes.
Things to Consider Before Buying SaniWhite Mouthpiece Toothbrush
Deceptive Advertising
The advertisement claims an American hero made but this claim isn't backed with any evidence. In fact, on buy-saniwhite.com there's no mention of who the creators are. We've seen this work many times. Most fake products are sold with catchy ad. It is just a script to hook buyers.
Doesn't effectively clean the teeth
Sani White has just one design. How can it accommodate  all the different sized mouths with just 1 silicone mouthpiece? There ought to be various sizes. One of the problems of this kind of toothbrush is that they don't reach the gum line. The gum line is the most important area to brush.
Lacks Originality
The claim that it is the first automatic toothbrush is totally false. The product is similar to Myst Toothbrush, a mouthpiece toothbrush that was debunked sometime ago.
No Credibility
buy-saniwhite.com was registered on September 2021, the business has been functioning for barely a month. This means the company has no reputation to speak of. Meanwhile, it
Sold by Unapproved Center
Sani White is sold through informercials, you can't find it in your local dentist's office or pharmacy even. What happens when you run out of bristles? Funny enough on the site's check out page, none of the packages offers replacement mouthpieces.
Is SaniWhite Mouthpiece Toothbrush effective?
No, it is not. Automatic/mouthpiece toothbrushes like SaniWhite don't clean the teeth effectively. Verified dentists have clearly stated that the health of your teeth and gums is AT RISK if you use this product in place of a regular toothbrush.
meanwhile, the reviews on buy-saniwhite.com have all been doctored. A close look at the images showed it was that of another similar product '360 Ultrasonic Toothbrush' which has already been debunked by verified dentists.
This further proves that this is not a spectacular product. If they're using the images and reviews that are not theirs, what does it tell you? Likely a dropshipper that has invested a lot in Social media advertisement.
Is The SaniWhite Toothbrush a Hoax?
It seems so. Dentists have debunked this automatic toothbrush because it is not as promising as the promotional videos suggest. You could be putting your oral health at risk if you buy and use this product.
Still tempted? read the Saniwhite comments below
Did you buy this mouthpiece style toothbrush? Does it meet your expectations? Did it stop working after a while?
Please share your experiences in the comment section.
Disclaimer: The views expressed in this article are presented as an opinion based on available information. This review is intended for information only and should not be relied on when making financial or business decisions. There is no malicious intent or attempt to defame any individual/s or organization/s. If you are a website owner and would like to provide clarifications regarding your business and/or website, please get in touch using the Contact Form.