Should you buy the Audious rechargeable hearing aid? or is it another scam meant to rip off elderly people? Read this review to find out!
With online scams springing up every day, we have taken the responsibility of reviewing products, stores, websites e.t.c in order to save you from making wrong decisions.
Our Review of this product serves as an eyeopener. We hope it meets you well, and on time.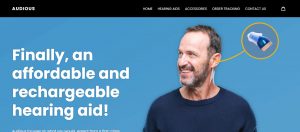 Audious – Is This Hearing Aid Worth It?
One of the reasons why this device is the rave of the internet is because unlike most hearing aids, it is quite affordable, rechargeable and almost invisible! Also, due to the ongoing flash Sales, instead of $249.97, it is been sold for $98.
Very affordable right?
Not to forget that it comes with a 90 day risk free trial, and the following perks-
Ready-to-wear with no fitting or hearing test required
 Adjustable pods fit your ear precisely so you don't even notice you are wearing them.
Ideal for background noise reduction, masking tinnitus, improving TV/radio sound
This looks like an easy buy, a quick steal. In fact, no one can resist the temptation of buying this super dope product!
BUT WAIT!
Isn't there something you're missing? Doesn't this look too good? or have your prayers been answered finally?
What You Should Know About Audious Hearing Aid!
Though there are lots of positive reviews on audious.com, they are not telling you the exact truth about this product. Below are some of the things you should know before buying Audious aid.
Audious Complaints
We received a mail from someone who had purchased Audious hearing aid, and his experience with the company and product was far from satisfactory. This led us to search online for genuine customer reviews.
On BBB and ScamPulse buyers have left a one star rating stating that the product does not work and that the 5 -7 days shipping is just a sham.
A user has this to say-
Don't purchase these hearing aids!

Ordered and they took 3 weeks to arrive. One did not work and the other one screeched a loud sound. As stated, they are not a company in the USA and come from Asia. Hard to return as there is no phone number and their email was full. Finally started a dispute with Discover Credit to get a refund. Finally got a return label from them. Money refunded if you are vigilant.

Ken
Deceptive Advertising
Audious calls it products 'Hearing Aids' which is quite deceptive. In reality, it is an amplifier. And that is exactly why it is sold for cheap prices. Having called it a hearing aid, lots of expectations are dashed on the floor when it is worn. It amplifies the sound of everything. Audious is simply personal sound amplifiers not hearing aids. Hearing amplifiers are not hearing aids. See the difference here
Fake Company Address
Like the comment above stated, the company is not located in USA as claimed, but come from Asia. This is one of the reasons why customers complain of long delivery time. Unlike the shipping schedule which is 5-7 days, shipping and delivery actually takes weeks or months even.
Fake Customer Reviews
The positive reviews on the website are not real. When we did a plagiarism check on the website, we discovered that the images of happy customers have been used before by other hearing aids websites.
This is not new, most stores boost up their sales rate by using fake reviews. However it doesn't mean that the product itself might not be real. Still, real customer reviews on PissedConsumer shows the product is not want it is said to be.
Does Audious Hearing Aid Really Work?
The answer to the question is complicated.
However, it has come to our notice that the product is wrongly described. It is a personal sound amplifier, not a hearing aid. For the price, it isn't a bad buy. You might not be satisfied either with the product itself or the customer service'. Or you could be lucky and be totally satisfied.
From customer reviews, this might not be an ideal hearing aid for you especially if you have such high expectations.
Is Audious A Hoax?
FTC has addressed the issue on this article here. The truth is that hearing aid scams are on the rise every day. When buying one you should look for a reliable seller and also genuine reviews. Meanwhile these are the best selling, most recommended hearing aids on Costco –