Should you buy the Hue hearing aid? or is it another scam meant to rip off elderly people? Read this review to find out!
With online scams springing up every day, we have taken the responsibility of reviewing products, stores, websites e.t.c in order to save you from making wrong decisions.
Our Review of this product serves as an eyeopener. We hope it meets you well, and on time.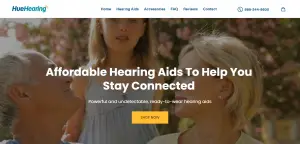 HueHearing – Is This Hearing Aid Worth It?
One of the reasons why this device is the rave of the internet is because unlike most hearing aids, it is quite affordable and almost invisible! Also, due to the ongoing flash Sales, instead of $109.97, it is been sold for $68.
Very affordable right?
Not to forget that it comes with a 90 day money-back guarantee, and the following perks-
Ready-to-wear with no fitting or hearing test required
Ultra-low prices
Cutting-edge digital technology
Small, medium, and large earbuds for ultimate comfort
Ideal for background noise reduction, masking tinnitus, improving TV/radio sound
Easy to remove
FDA-compliant
Free shipping
This looks like an easy buy, a quick steal. In fact, no one can resist the temptation of buying this super dope product!
BUT WAIT!
Isn't there something you're missing? Doesn't this look too good? or have your prayers been answered finally?
What You Should Know About HueHearing!
Though there are lots of positive reviews about this hearing aid, they are not telling you the exact truth about this product. Below are some of the things you should know before buying Huehearing aid.
Hue Hearing Complaints
We received a mail from someone who had purchased Hue hearing aid, and his experience with the company and product was far from satisfactory. This led us to search online for genuine customer reviews.
On Scamdoc and Reportscam, buyers have left a one star rating stating that the product does not work and that the 90 days money -back guarantee is just a sham.
A user has this to say-
This company preys on older people to try their hearing aids that don't work. They offer a 90 day guarantee but do not answer their phones, intact it disconnects itself. They do not return emails. Total scam. Terrible people with bad karma headed their way!

Ken
Fake Customer Reviews
The positive reviews on the website are not real. When we did a plagiarism check on the website, we discovered that the images of happy customers have been used before by other hearing aids websites.
This is not new, most stores boost up their sales rate by using fake reviews. However it doesn't mean that the product itself might not be real.
No Customer Support
One of the major complaints of customers is the inability to get in contact with the company. The company does not answer the phone calls, nor reply messages.
This should be seriously looked into!
The motto of every business, whether small or big is 'Customers come first'. Why then is this company ignoring its customers?
Does Hue Hearing Aid Really Work?
Just like Audious hearing aid, the answer to the question is complicated.
What you should know is this 'you might not be satisfied either with the product itself or the customer service'. Or you could be lucky and receive your dream hearing aid.
From customer reviews, this might not be an ideal hearing aid for you especially if you have such high expectations.
Is Hue Hearing A Hoax?
FTC has addressed the issue on this article here. The truth is that hearing aid scams are on the rise every day. When buying one you should look for a reliable seller and also genuine reviews.