Should you buy dry fruits from Myntrafab in? or is it another scam meant to rip off Indians? Read this review to find out!
With online scams springing up every day, we have taken the responsibility of reviewing products, stores, websites e.t.c in order to save you from making wrong decisions.
Our Review of this store serves as an eyeopener. We hope it meets you well, and on time.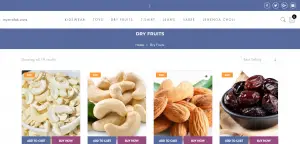 Myntra fab – Is This Online Store Worth It?
One of the reasons why this store is the rave of the internet is because unlike most online stores, it is offering its dry fruits and Kids wear for discount prices.
You get to pay for almost half the price, no hassles.
Very affordable right?
Not to forget that it offers free delivery for all over India.
The store has the following dried fruits-
Cashews
Walnuts
Dried Kiwi
Salted Pista Pistachios
Dried Afghani figs
Chia seeds
Omani Dates
This looks like an easy buy, a quick steal. In fact, no one can resist the temptation of buying these dry fruits.
BUT WAIT!
Isn't there something you're missing? Doesn't this look too good to be true?
What You Should Know About Myntrafab Store!
Though this online store looks legit, it is not entirely a safe place to shop from. Below are some of the things you should know before buying kids clothes or dried fruits from Myntrafab.in-
Myntrafab In Complaints
We received a mail from someone who had purchased item from this shop, and his experience with the company was far from satisfactory. This led us to search online for genuine customer reviews.
On YouTube and Facebook, buyers have left negative reviews about this online shopping website.
A user has this to say-
I have ordered and paid the money. But no track of my order. I think it is totally scam !

Ankur
Fake Phone Number
The phone number provided by this store is not reachable. When buyers tried calling the number, they were told it is an Invalid number.
Same is applicable to the email 'myntrafab.s[email protected]', messages sent to the address does not deliver.
No Customer Support
One of the major complaints of customers is the inability to get in contact with the company. The company does not reply mails or queries sent directly to the website.
This should be seriously looked into!
The motto of every business, whether small or big is 'Customers come first'. Why then is this company ignoring its customers?
Is Myntrafab.in A Scam?
From customer experiences online, Myntrafab.in store is not a trustworthy online store. Those who shopped from the store are yet to receive tracking Info or even the items purchased.
The reviews online indicate that Myntrafab store is not a legit online store. It uses fake address, fake phone number and super cheap prices to swindle Indians.
Have you been scammed by this store? help others by sharing your experience in the comment section.
You can also report the fraud here