Did you receive scam text from Ryml.me claiming to be from Royal Mail telling you about delivery of your parcel? Beware! It is a scam.
Lots of people have received this Scam text message Ryml.me. It actually contains a link to a malicious website.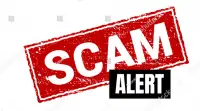 Ryml.me Scam Text 2022- How Does This Scam work?
Ryml.me scam text is fraudulent text sent by scammers to get your personal and financial information with the ulterior motive to defraud you. This text is supposedly from Royal mail saying that your parcel is waiting for delivery. Do not be deceived. It is a SCAM! It has nothing to do with Royal Mail.
Clicking on the link exposes you to viruses, spywares, malwares, which are harmful to devices and can hack and destroy your mobile phone.
Ryml.me Scam Text Formats:
"Your parcel from internet fusion group is due today between 08:34 am and 12:34pm. Not going to be in? Track it at https://ryml.me/?fy448269075b&mk…"
Your Royal Mail parcel is waiting for delivery. Please confirm the settlement amount of 2.99 GBP via:
Uk(dot)royalmail-bill(dot)com.
Lots of people may assume this text message is genuine, as it comes with URL. This would be a huge mistake. What we have is a simple but effective phish. It takes advantage of several real-world factors to ensure it's possibly a bit more believable than other missives landing in mailboxes. Beware!
Received Ryml.me Scam Text? Do The Following!
For suspicious emails, forward the email to 

[email protected]

, do not click on any links or attachments and then delete if from your inbox.
For suspicious text messages, please send us a screenshot of the message to 

[email protected]

.
For suspicious calls or websites, please include the phone number or website address in the body of the email. 
Also, you can report scams, untrustworthy websites and tell us why you consider the websites fraudulent. See similar phishing scam; Wal Tracking Scam, Delware BPO Scam, Publix 90TH Anniversary, etc.