Have you received an email from Royal Mail Group claiming your parcel could not be delivered? Don't be deceived! It is a scam.
This review serves as an eyeopener to help you make the right decision about emails and text messages like this  "Royal Group Ltd Email Scam "
We hope this review meets you well, and on time.
Royal Group Your Parcel Could Not Be Delivered – How True Is This?
We have been receiving mails from readers, bearing screenshots of mails claiming that their parcels could not be delivered and should visit a link to reschedule the delivery .
This email goes like this-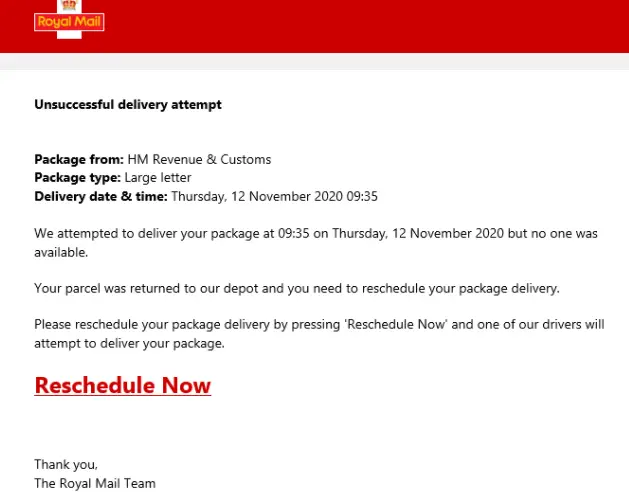 This might look so convincing, and might make you panic. Hey! no need to be frightened or even visit the link. This review is going to show you how this scam works.
Royal Group Ltd Your Parcel Could Not Be Delivered Mail – Another Scam!
The email is being sent out to potential victims by phishing scammers. This is a bait to trick them into believing they have a parcel on its way, and they have to pay a token for it.
The scammers have upgraded their game. Recipients of the mail are people who have ordered something online and are waiting for their order. Either they hacked online store, or they have found a way to get the phone numbers of people who ordered things online.
When we sent an enquiry to the official website of Royal Mail, we were told that the mail isn't theirs, and that the email address has already been flagged down as Spam.
They've also released a warning here, to the general public.
How Does This Royal Group Ltd Scam Work
If you respond to the fake text message or emails like this one, by visiting the link provided, the scammers would request for your personal information.
Once the information has been sent, the scammers will ask you to send money, which they will claim is for taxes, processing fees, delivery fee, or some other fee.
Once you send the money, these scammers will take it and disappear. The victims, on the other hand, will not receive any parcel as claimed.
Phishing scams are on the increase daily, we've been able to fish similar phishing scams like – EireVerify, Svieducation scam, Vince Camuto email scam, NYSDOL scam, USPS scam, to mention but few.
What Should You Do If You Receive Emails Like This
No matter how convincing it make sound, we advise you not to send money or personal information to anyone who claims you are a winner in some so-called lottery.
Legitimate lottery companies do not ask their winners to send money or personal information in order to collect their prizes.