Are the felted toys on phoebefeltingtoys.com real? Would you get the exact toy or a knock off? Is Phoebe Felting Toys Store legit or scam? This review provides answer to your questions.
Online shopping has made it easier for a lot of us who don't fancy trudging the streets, especially during this post Coronavirus period. However, with the rise in online shopping, online scams have risen.
This is why extra measures have been taken to provide the accurate details, and the pros & cons of this online toy store called PhoebeFeltingToys.
What is phoebefeltingtoys.com Website?
It is an online store that sells different kinds of adorable toys like Montessori toys, Felting Kit Angel Fairy toy, with the bonus of free shipping on order over $70.
Sounds like a nice offer right? I bet you're already thinking of getting one of the toys for your lovely niece or nephew. Something for their birthday? or just a present? You know every kids love presents! Even adults too.
But sadly, Phoebe Felting Toys website has a lot of red flags. Yes, you heard me well!
First of all, lets look at the website specifications.
Website Description
Name: Phoebe Felting Toys
Type: Online Store
Link: https://phoebefeltingtoys.com/
Email: [email protected]
Date of Registration: April 2021
The website is ten months old
Company and Owner Information:  VANKIN COMPANY LIMITED
Company Location: 4/4a Bloomsbury Square, London, Greater London, England, WC1A 2RP
Contact Number:  N/A
OBSERVATION: phoebefeltingtoys.com doesn't look too good. Firstly, the company ' VANKIN COMPANY LIMITED' is suspicious. It is linked to multiple online stores that have been flagged down for fraud. Reports online show that this company has a chain of shady e-commerce websites that indulge in bait and switch scam to fleece buyers. . At this point, I'm already having a bad feeling about this clothing store.
Does it get better or worst? Keep reading!
Pros of phoebefeltingtoys.com
Accepts PayPal
Has a user friendly interface. No annoying pop-up notifications
Website is secured with SSL encryption
Has social media pages
Drawbacks:
Website Lacks seal trusts from authorized organizations.
The Company has a negative history online
Spelling errors
Where is Phoebe Felting Toys Located?
phoebefeltingtoys.com has provided its address as England, but it is a sham. Vankin Company Limited was registered at the UK Companies House were it is very easy to register a company. You only need to provide pseudo identity and virtual address which you can rent from virtual address service providers. This is common with untrustworthy online stores or platforms located in China. The London address is just a disguise to buy customer's trust. So yeah, the toys are coming from China not UK or USA like you thought.
Suspicious Nature
Phoebefeltingtoys.com was formerly known as phoebetoy.com. In fact, if you visit phoebetoy.com now it redirects you to phoebefeltingtoys.com. Why the change of name?
Its a disguise to hide their shady activities. It sold totally different product from what was ordered. The quality of the toys were very poor compared to the images on their website. See one of the reviews left by a customer who had shopped from phoebetoy.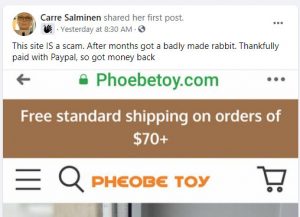 What are the Customer Complaints?
Though PhoebeFeltingToys has no provision for customer reviews on its page, customers have left reviews online stating that the online store 'phoebefeltingtoys.com' is a suspicious store that indulges in deceptive advertising. Instead of felted toys, customers received a stuffed version. What was ordered was definitely not what was received
Is phoebefeltingtoys.com Legit?
From the points noted above, I wouldn't say it is a legit online store. It indulges in false advertising. In reality, the products are counterfeit, a knock-off imitation mass produced in China.
Would I buy toys from this store? I honestly wouldn't. Apart from the possibility of receiving wrong item, I don't have the patience to wait for the delivery. The estimated delivery time is between 2 – 4 weeks due to the fact that the toys are coming from China!
Conclusion:
From all indications, phoebefeltingtoys.com is not a legit store to buy felted toys. It has a poor trust score, and as such not recommended.
At the end of the day, just like Ovdoe, Viciccionic, and a host of other sites located in China, Customers might receive knock-off imitation of what they had ordered or nothing at all.
You should consider buying from these Amazon sellers below. The delivery is swift, and response is timely.
Have you been scammed?- Do This
Shopping from this store exposes customers to the risk of hacked credit card and overcharged fees. Also, customers would either receive an inferior item, a different cheaper item, or nothing at all.
Therefore, it is advised to file complaints to your bank and request for a new credit (debit) card. On the other hand, if you used Paypal as a method of payment, you should send a link of this review to PayPal, highlighting the Payment Scam.
Yes, it is true that online shopping has made life easier, however when ordering things online check out the following-
How old is the website? Does it provide return address? Are there customer reviews online? Do the social media icons work?
Always remember you can get the items from trusted sellers on Amazon, like the ones provided above. One of the advantages of shopping from amazon is the return policy. If you are not happy with your order, you can always return your items and get your money back.