Hundreds of people have received text messages with link to onlinehome.us. If you're one of such people, this article provides concise and quick methods on removing & protecting yourself from the scam.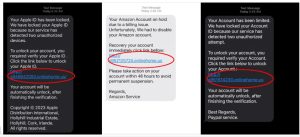 What Is Onlinehome.us & Who Owns It?
Onlinehome.us is a hosting service provider that allows individuals and businesses to host websites and web applications on the internet. It is owned by 1&1 IONOS a web hosting company that provides a range of services, including domain registration, website builder tools, and cloud hosting. However, presently, scammers are using it to create fake websites or landing pages for phishing scams or other fraudulent activities.
The Onlinehome.us Scam Text Messages
The text messages come in different forms. So far we've discovered five kinds of it;
Onlinehome.us Apple ID has been blocked Scam
The scammers send people text messages claiming their Apple ID is locked because a service has detected two unauthorized devices. The text message contains an onlinehome.us link which leads to a fake Apple website.
Onlinehome.us Amazon Account On Hold Scam
This particular text message claims the recipients Amazon account has been suspended due to a billing issue. The email includes a link to a fake Amazon website hosted on Onlinehome.us.
Your PayPal Account Has Been Limited Onlinehome.us Scam
In this scam, the scammers claim to be from PayPal. You're told your account has been locked due to unauthorized attempts. Then you're made to click on a onlinehome.us link to unlock your account.
Onlinehome.us Netflix Membership On Hold Scam
In this case, the scam email appears to be from Netflix and claims your membership is on hold due to an issue with your billing information. The email provides a onlinehome.us link to a fake Netflix login page.
How To Protect Yourself From Onlinehome.us Scam Text Messages
The goal of the scam text messages is to get your login details and personal information, and then take over your account(s). However, the good thing there is that the scammers can't get it without you providing them. This kind of scam is called Phishing scam, and the only way to protect yourself from it is this; DO NOT CLICK ON THE LINK ATTACHED TO THE TEXT MESSAGES.
Two things happen when you click on it, Number 1, It could or would launch a malware to your mobile device. Number 2, it leads you to a fake website were you'll be made to provide your personal and financial information.
No matter how convincing it sounds, you shouldn't visit the link or links attached to such messages/mails or send your personal information. The first thing you should do is ignore such messages, and look for reviews online about it.
Also, you can report scams, untrustworthy websites and tell us why you consider the websites fraudulent. See similar phishing scam; SharpUSPS scam text, Wal Tracking Scam, Delware BPO Scam, Publix 90TH Anniversary, etc.
Author Profile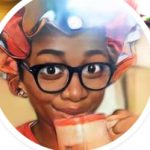 Wendy is a fraud fighter whose contents mainly target online scams. Her investigations have appeared on Itisreviewed,and elsewhere. She spends her free time reading novels, binging on Netflix, and listening to hip-hop.