Did you receive scam text claiming to be from Ofgem requesting bank details under the guise of paying you the £150 council tax rebate that is being issued by the Government? Beware! It is a scam.
Lots of people have received this Scam text message Ofgem. It actually contains a link to a malicious website.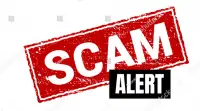 In all sense, The Office of Gas and Electricity Markets (Ofgem) regulates the monopoly companies which run the gas and electricity networks. It takes decisions on price controls and enforcement, acting in the interests of consumers and helping the industries to achieve environmental improvements.
It is a non-ministerial department.
Ofgem Energy Rebate Scam Text 2022- How Does This Scam work?
Ofgem scam text is fraudulent text sent by scammers to get your personal and financial information with the ulterior motive to defraud you. The scammers are requesting bank details under the guise of paying them the £150 council tax rebate that is being issued by the Government Do not be deceived. It is all Scam!
Clicking on the link exposes you to viruses, spywares, malwares, which are harmful to devices and can hack and destroy your mobile phone.
Tips To Identify Ofgem Scam Text:
If anyone claiming to be Ofgem asks for your bank details this is a red flag.
However, they would never ask for your bank details with regards to energy bills.
The energy regulator has warned fraudsters may try to contact people in the following ways:
Knocking at your door 
Phone call
Social media
Email
Pop-up message on a website
Instant message 
Text message
Additionally, ofgem advice –
Reject, refuse or ignore contact from "Ofgem" that looks or sounds unusual, such as a request for your bank or personal details. We never ask for this information
Check email addresses. Any emails to or from Ofgem always end @ofgem.gov.uk
Check branding. The Ofgem logo will always be present in our communications. It should never look stretched, blurry or distorted
Only criminals will try to rush or panic you
Received Ofgem Rebate Scam Text? Do The Following!
You should delete the text message immediately as it is obviously a phishing scam. Meanwhile, do not forget to inform your family and friends. Please they should not click on the link if and when they receive such message.
Also, you can report scams, untrustworthy websites and tell us why you consider the websites fraudulent. See similar phishing scam; Wal Tracking Scam, Delware BPO Scam, Publix 90TH Anniversary, etc.