A new kind of nuisance has been making waves recently. Spam calls from different numbers asking people to go to noworkplan.com to make 10K a month. The call goes this way;
Hey, this is Mary. You want to know when my husband launched his new money making system. This is the one where you can make at least $10000.00 monthly without lifting a finger. Go to no work plan dot com. That's no work plan dot com. Oh, there's also a free webinar and free bonus showing you had a Triple the amount of money you can make. Go to no work plan dot com to make at least $10000.00 monthly. That's no work plan dot com. God bless and stay safe.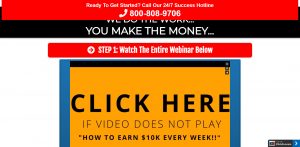 The spam calls was received from the following telephone numbers-
(216)672-5072.
562-800-6774
618-882-4114
The question is; how real is this offer? Can noworkplan.com really make you $1000-$10,000 weekly? Lets find out!
How Does Noworkplan.com Really Work?
When you visit the website you're made to watch a 25 minutes webinar which is just pure salesy. Five minutes into the video we couldn't tell what the site does really. The webinar claims their system generates a turnkey five figure income, and that it's a proven system.
In reality, Noworkplan.com wants you to pay $245 admin fee to get access to their marketing products which you'd in turn sell to people. It is just another MLM. They claim they've a proven system that works that'd help you sell these marketing courses, videos, webinars, etc.
But how true is this claim of theirs? Below are some inconsistencies we noticed about Noworkplan.com
Is Noworkplan.com Legit?: Reasons Why we DON'T Think so
False Claims – The webinar claims they've been helping people for over 15 years make money but in reality the website 'noworkplan.com' was only registered on 29th July 2021. So in the real sense it has only been working for a couple of months.
Fake Customer Testimonials – The testimonies and reviews on the webinar are totally false. The Credit check been displayed by people are all dated from 2018 to 2020. There's none from 2021. Bear in mind that this business only started working in September 2021. Doesn't this tell you something fishy is going on?
No Business Address – There's no address listed on the site, neither is there an email address. Genuine businesses always provide real physical address so people can walk in and make enquiries.
No Owner Information – The Webinar and testimonials mention the name 'Dave' however this is just a name with no face attached to it. There's no About Us page that provides the background story of the so called Dave.
Should You Join Noworkplan.com?
It totally depends on you. However, we do not recommend Noworkplan as it has some suspicious red flags that shouldn't be ignored. It could be another work from home Scam.
Meanwhile,  if you have any information about the Noworkplan com call, please share in the comment below. Remember to include the telephone number the call came from.