Have you received a text message from Lennox Travel that says you've won a free cruise package? Are you trying to find out if lennoxtravel.com is scam or legit? this review is for you!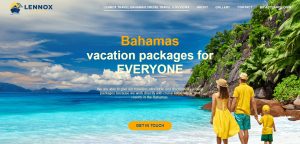 What is Lennox Travel?
Lennox Travel is a travel program that offers vacation cruise programs to the Bahamas. Often times, the program gifts people 'free cruise' vacation package after they must have participated in a raffle draw. Sadly, the free cruise package is not really free.
First of all, you've to pay a  $19 per person for an admin fee. Secondly, what you get is a '2 free days for a cruise'. But in reality none of the cruises are 2 days long. Some are six or seven days long. So in the end you have to pay for the extra 4 days.
Meanwhile, you are responsible for all normal travel expenses inc transportation etc. You might get a few free nights at a resort, but there will be "extras" that in the end cost as much as a regular resort.
Is Lennox Travel a Scam?
No, it isn't a scam perse. However, the offer is not really genuine. You'd be made to pay a $19 per person admin fee plus other miscellaneous fee. In the end, it costs same price as every other resort vacation package.
Conclusion
Lennox Travel is a viral travel program luring people with a 'free cruise' package to Bahamas. In reality, the vacation package is not really free. You'd have to pay a $19 admin fee, and also cover exorbitant miscellaneous expenses.
Have you received a text message from Lennox Travel? Please share your experience in the comment section. Or join the conversation on Reddit.
Meanwhile, you can report scams, untrustworthy websites and tell us why you consider the websites fraudulent. See similar phishing scam; Wal Tracking Scam, Delware BPO Scam, Publix 90TH Anniversary, etc.