Tweakelite Review: Should you download Apps and games from tweakelite.com? Is this Android and iOS app apk download legit? Read this review to find out the facts about Tweakelite.
According to FTC, online scams is the most reported fraud category in 2021. As a result of this, we have taken the responsibility of reviewing products, stores, websites, apps, etc. for our reader's financial safety.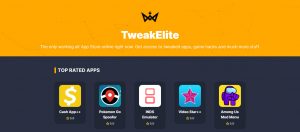 How Does Tweakelite Work?
tweakelite.com is a popular third-party AppStore that offers premium apps for iOS Android. However, when you try to download an app or apk for your mobile phone, you'll be redirected to an untrustworthy website 'devicevrfy.com'. This website will pretend to verify if you're a robot.
But guess what?
You will be taken to different websites and shown annoying popup advertisements. You'll also be forced to complete a survey in order to get the keys to the hacked game. But, it doesn't matter how many surveys you complete, you will never get the keys you were promised.
+ Pros
All kinds of app are available on the website
The site updates apps, games, emulators, and many other tweaks on regular basis
– Cons
You have to download several other apps to complete your download.
The apps available on tweakelite.com are not real.
Directs you to a malicious website
Does not hack any app or game
Summary
Just like Ogzilla.net, tweakelite.com is not a safe website to download and hack games. It redirects users to malicious websites that pose a security threat to mobile devices. Also, the apps on Tweakelite are not the original ones found in Playstore.
If you have installed apps via tweakelite.com, please remove them from your smartphone or mobile device. You should also change your online account passwords for safety.