Forget whatever you've watched or read about Huusk Knives. The reviews and commercial are totally BS. Huusk is far from being a handmade Japanese knife.
Now, don't get me wrong, the design looks like the everyday Japanese knife we see in Asian movies and YouTube vlogs. But forget that, we all know looks can be deceptive.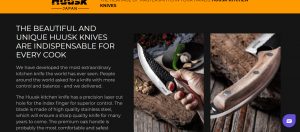 First of all, there's nothing special about the Huusk Knives as you were made to believe. The Ad is just pure sales tactic. The Huusk video suggests the steel is processed using the 'Damascus' steel process. This is not the case as there is no Damascus pattern on the knife blade surfaces.
Moreover, no genuine hand forged knife is available for less than $30.
Should You Be Concerned About Huusk Knives?
The answer to that question is Yes. Though huusk.com appear to be a legitimate site, below are reasons why you should think twice before buying the Huusk knife–
Not Made in Japan
The Ad commercial and reviews online are misleading. Huusk Knives are not made in Japan. The Huusk Knives come in a box that clearly says 'Made in China'. Moreover, the name Huusk is not Japanese. This combination of sounds doesn't exist in Japanese.
Shipping & Delivery
One of the major problems people had when they ordered the 'Huusk Japan Knife' is the delay in shipping and delivery. Many people had to wait for up to a month before their order arrived, while some were lucky as it arrived in just two weeks. So if you need the knife urgently, you need to exercise patience.
Blunt
The Ad shows a heated knife slicing through some item, but my Huusk knife failed rather miserably. The Huusk Knife looks like a fine specimen but it lacks one feature which is – Sharpness. You'd need to sharpen the knife every day before using it as it take one hell of an effort to do some job. It's only sharp for slicing paper.
Overpriced
It is been sold for extremely high prices. This exact Japanese looking knife is sold for far cheaper prices on Aliexpress, Alibaba, and even on Amazon, for as low as $4.
However, I only recommend Xinzuo. As it is one of the few Knife brands that delivered me consistent quality.
Customer Complaints
Lots of people who ordered the Huusk Knife have complained bitterly of receiving spam emails from the company. No matter how many times you unsubscribe you'd keep receiving emails. This is quite annoying and should be looked into by the company!
Is Huusk Knives Worth Your Money?
The biggest problem is the marketing and the price point, as the knife is sold for (4x and sometimes 10x higher and they charge shipping & handling cost for something they don't even do themself like charging for shipping cost while shipping is free with the drop-shipper provider).
And because it is dependent on where the knives are sent from, mostly from China, the knife can take a while before it arrives at your doorsteps and, in some cases, get lost (as they will choose the cheapest shipping provider).
The knife itself is mostly decent, but not at the price point they (scam websites/drop shippers) charge you for.
As you look at the website from Huusk Japan, they are using a Famous Japanese blacksmith in their picture called: Itsuo Doi (土井逸夫氏) (the guy in blue on the Huusk Website).
This is a Japanese Blacksmith that specializes in hitting the blade. Believe me. There is no way he will make that kind of knife that Huusk is offering, especially not in that quantity.
The product is not the problem here but how Huusk is scamming people with photoshopped pictures and stolen pictures from famous Japanese blacksmiths. At the same time, the knife itself is not made in Japan (and charging 4x up to 10x with false advertising).
See similar review – JapaKnives