Forget whatever you've watched or read about Japaknives. The reviews and commercial are totally misleading.
Now, don't get me wrong, the design looks like the everyday Japanese knife we see in Asian movies and YouTube vlogs. But there's more to what meets the eyes.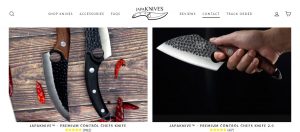 First of all, there's nothing special about the Japaknives. The website says it is "Designed in the USA" while each of those so-called designs is a reference design from the manufacturer themselves and everyone can get a laptop and travel to XYZ and say designed in XYZ.
What You Should Know About JapaKnives
Whether it is the dragon cleaver or premium control chef knife, below are reasons why you should think twice before buying the Japaknives–
Not Made in Japan
The Ad commercial and reviews online are misleading. JapaKnives are not made in Japan. Those knives are made in Yangjiang (China), capital of knives and scissors, by OEM manufacturers that can be found by dozen on Alibaba like this one : Yangjiang Asiakey Industrial Co., LTD.
The knife with the finger hole in the choil is advertised on Aliexpress as a Japanese knife but also as a Serbian butcher knife which seems more accurate, which will cost 4$ for a MOC between 500 to 1499 pieces…just saying if you want to start your own brand, made in Japan of course.
Shady Guarantee Policy
Forget the words on the website that claims 'Lifetime Warranty'. In reality, the lifetime warranty only covers damage during shipping.
Shipping & Delivery
One of the major problems people had when they ordered the 'JapaKNIVES' is the delay in shipping and delivery. Many people had to wait for up to a month before their order arrived, while some were lucky as it arrived in just two weeks. So if you need the knife urgently, you need to exercise patience.
Overpriced
It is been sold for extremely high prices. This exact Japanese looking knife is sold for far cheaper prices on Aliexpress, Alibaba, and even on Amazon, for as low as $4.
However, I only recommend Xinzuo. As it is one of the few Knife brands that delivered me consistent quality.
Is JapaKnives Worth Your Money?
The biggest problem is the marketing and the price point, as the knife is sold for (4x and sometimes 10x higher and they charge shipping & handling cost for something they don't even do themself like charging for shipping cost while shipping is free with the drop-shipper provider).
And because it is dependent on where the knives are sent from, mostly from China, the knife can take a while before it arrives at your doorsteps and, in some cases, get lost (as they will choose the cheapest shipping provider).
The knife itself is mostly decent, but not at the price point they (scam websites/drop shippers) charge you for.
See similar review – Huusk Knife