The Holland and Lieberman class action lawsuit text is a scam. It is not from any law firm. You wouldn't receive $39,000, instead you get a virus in your phone.
With online scams springing up every day, we have taken the responsibility of reviewing products, stores, websites e.t.c in order to save you from making wrong decisions.
This review serves as an eyeopener. We hope it meets you well, and on time.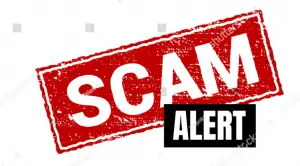 The Holland and Lieberman Lawsuit Text
We have been receiving mails from readers, bearing screenshots of text messages that claims to pay out $39,000 for a lawsuit.
The mail goes like this-
" Anna, I'm Sue Davis from Holland&Lieberman. You're invited to file in our class action lawsuit. Average payout is $39,000! j4ftq7h.com "

Anna
This might look so convincing, and make you think that your dreams are about to be realized. Hey! rejoice not, this is the new scam round the block. This review is going to show you how this scam works.
What You Should Know About This Holland&Lebrowitz Scam
The email is being sent out to potential victims by scammers.
The link on the text goes to this website, www.j4ftq7h.com, which doesn't have a homepage.
A quick investigation showed that the website's IP address is located in Hong Kong and is owned by Alibaba China.
This text message uses other aliases like Holland&Lebrowitz. They are all the same.
How Does This Scam Work?
If you respond to the fake text message or mail, the scammers will respond, by telling you to send personal information in order to collect the so-called prize.
Once the information has been sent, the scammers will ask you to send money, which they will claim is for taxes, processing fees, delivery fee, or some other fee.
Once you send the money, the lottery scammers will take it and disappear. The victims, on the other hand, will not receive the prize or money that they were promised and will be a few hundreds or thousands of dollars broke.
What Should You Do If You Receive Text Messages Like This
No matter how convincing it make sound, we advise you not to send money or personal information to strangers no matter how sincere they might sound.
Also, be wary of text messages or mails that carry links. Often times, these links are malicious, and when you visit the website your personal and financial information is hijacked.
see similar reviewed phishing scams – IENftop, UK Pepsi Lottery Scam, Marlin Recovery Messages and Lawsuit, e.t.c