Have you stumbled on a link on Instagram or Facebook that says 'Gordon Ramsay Partners with HexClad for Cookware giveaway Up to 100% Off"? Beware! It is a scam.  The Gordon Ramsay Hexclad cookware giveaway is not real, and if you fall for it, you will end up losing your money.
I came across same link earlier today, and I decided to play along to know if the giveaway is indeed real. The post claims I only need to pay $9.5 for shipping, then states I need to answer three questions to qualify for the giveaway.
After answering the question, I was directed to an order page for HexClad cookware set.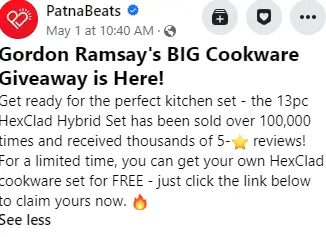 However, this is where the scam comes in.
At the bottom of the order page, I was told to pay $9 only for shipping and handling. However, on close look, I discovered it was a subscription page. Once I make the payment, I'd be automatically charged $9 every month for accessing the website.
This kind of scam is not new. It is a typical bait and switch scam, where scammers lure you in with giveaway or freebies but then trick you into signing up for a subscription. You wouldn't discover this if you don't read the tiny prints during your order & payment. In the end, instead of shipping fee, you're paying for an online magazine subscription. You will be debited from your credit card monthly.
Of course if you paid for the so called shipping you wouldn't receive the cookware. Hundreds of people who fell for this scam, are yet to receive their giveaway cookware even after waiting for almost two weeks. The complaints and negative reviews can be seen on this Facebook post here.
What To Do If You Fell For The Scam
If you fell for the HexClad Cookware Giveaway scam there's no need to panic. The first thing you should do is call your bank or credit card company and block your credit card. Meanwhile, if you gave the scammers any access to your Paypal, Venmo, Cash App, Zelle, etc., contact the company and secure your account.
You should also enable two-factor authentication. Don't know how to do that? follow the steps written here or Search Google for how to do that. Take extra measures to ensure the scammers can't get in.
See similar Giveaway scams – Amazon Package Loyalty Reward, UKPepsi Lottery Scam, Eyeverify, Bath$Body Coupon, Amazon Airpods Raffle Scam, and many more.
Author Profile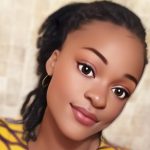 Scholar is a scam detector whose contents pinpoint the numerous drawbacks of fraudulent websites. She spends her free time reading books.