Have you won or know anyone who has won GOAT Black Friday Raffle? Share your experience in the comment section. Meanwhile, do you know any tips or tricks? Do you think it is pure luck?
If it is luck, then I'm not blessed in that area. I've been trying since 2016. I've not seen or have friends who won the raffle. And I do have many friends who're suckers for Goat Black Friday.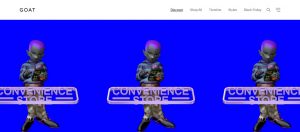 About Goat.com
GOAT is an app and retail destination for the latest and greatest in streetwear and sneakers. You can sell or buy your sneakers on Goat.com. In order to list your shoes, a seller must send in seven photos, each of which must match a list of requirements. Goat will then determine whether they are real and safe to list, using a database of real and fake versions to figure out the legitimacy of the shoes. 
The store has an app, a website, an active Twitter account, a Reddit Community, and a handful of other social media pages.
Is GOAT legit?
Though there are a handful of negative reviews and complaints about GOAT, it has been operating since 2015, so it is legitimate. It is only sketchy when you miss a drop and decide to buy resale. Meanwhile, GOAT authenticates everything. When you buy, the seller sends to goat then to you.
In rare cases you might –
Receive a pair that contains one fake and one real
Receive a smaller size of sneakers
Have courier issues
However, these issues aren't peculiar to GOAT alone. Lots of resale marketplace for sneakers have similar issues. So, have you experienced any? What was the customer service like?
Meanwhile, you can check our Online store reviews archive >>HERE<<< to find out other reviewed stores. Or browse our Black Friday Scam categories >>>HERE<<<